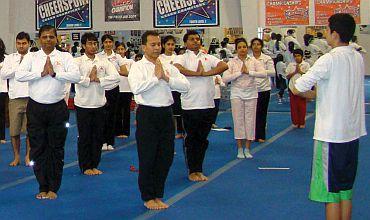 The Hindu Swayamsevak Sangh, USA, concluded its fifth annual Health for Humanity Yogathon recently with almost a million repetitions of the Surya Namaskar, a series of yoga postures.


Despite the unusually chilly weather, the 10,071 participants in 225 cities and towns in 40 states warmed themselves during this two-week Yogathon with 984,481 repetitions of the yoga routine. Participating organisations included 17 public schools, 25 universities, 14 yoga schools, and many temples.


The HSS launched the Health for Humanity Yogathon, also known as Surya Namaskar Yajna, as an annual event in 2007 to create awareness about yoga and the role it plays in encouraging overall health.



As a first-time participant put it, 'The cost to participate in this Yogathon is zero, but its health benefits are priceless!'


Shekhar Agrawal of the Patanjali Yogpeeth (USA) Trust, told Indian Americans: 'This country has given us wealth; let us all give it health.'


Stephen Knapp, president, Vedic Friends Association, said, 'I certainly notice a difference in my health, especially my energy and stamina. Plus, it helps motivate me.'


Nikita Zamwar, an 11th grader, said her 80-year-old grandfather has been doing Surya Namaskar and teaching yoga for long and is as fit as a young man as a result.

'This gave me the motivation to do Surya Namaskars to ensure a good and healthy future,' she said.


The mayors of Tampa, Florida; Milpitas, California; Cupertino, California; and from Normal and Bloomington, Illinois, declared a Health for Humanity Day and encouraged constituents to participate in local Yogathons.


New York Mayor Michael Bloomberg integrated the Yogathon with a Shape up New York programme and urged city employees and residents to participate. Judge Ed Emmett of Harris County, Texas, the third-largest US county, also declared January 29 as Health for Humanity Day.


Many children around age 10 performed more than 500 Surya Namaskars. Srimitha Srinivasan, 11, from Reading, Massachusetts, performed a stunning 3,876 Surya Namaskars. Saraswati Rao, 66, completed enough Surya Namaskars to gain the respect of younger participants.


Neurosurgeon Dr Kamaljit Singh Paul guided the Yogathon participants at the Gurudwara of Fox Valley in Menasha, Wisconsin. He outlined the benefits of Surya Namaskar, and said it helps keep internal organs healthy and ensures proper blood circulation.

GLOW, the women's health programme at Valley Medical Centre, Renton, Washington, aims to make this a required daily exercise for its members.

Praveen Dhir, Yogathon national coordinator, HSS, said, 'It is a real achievement of this project that many participants continue this exercise year round and spread the message to stay fit.'

In Texas's Fort Bend County, teens demonstrated the Surya Namaskar before a crowd of participants during the national Yogathon.

"It is easier to do Surya Namaskars in a group rather than alone, especially for me," said Hejal Soni, a 10th grader at Clements High School in Sugar Land, Texas.

The teenagers also participated in a week-long Kishor (Teenager) Conference Call.

Children of different ages came in at 9 am to perform three sets of Surya Namaskars.

Every day, putting aside their homework, around 12 of them came on the call to promote yoga and good health among the youth. This idea was adapted last year from a West Coast effort.

'I think it (Surya Namaskars) helped me relax and give me a break so that I could come back with a clear mind to my work,' said Swetha Ramamurthy, a caller.

Ayush Sharma, a ninth grader at Clements High School, did the Surya Namaskar every day during the Yogathon. So did his family, albeit at different times of the day.

"My dad is an inspiration for me because he gets up at 4:30 am and does Surya Namaskars every day. Doing at least three sets every day during the Yagna helped me get in a habit of performing Surya Namaskars daily like my dad," Ayush said.

Ninth-grader Shiven Danayak does Surya Namaskars every week.

"I take on a lot of stress and Surya Namaskars are like stress relievers for me. They help me stay calm," he said, adding, "Why spend money at the gym when you can stay fit and get extra benefits at home with Surya Namaskars?"