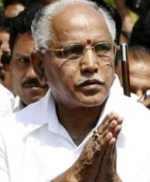 As B S Yeddyurappa is all set to launch his party on Sunday, the BJP's focus is on legislators who will attend his rally defying orders from the party. Vicky Nanjappa reports
The core committee of the Bharatiya Janata Party is at a meeting in New Delhi ahead of the launch of B S Yeddyurappa's Karnataka Janata Party at Haveri on Sunday. The committee is deciding on what action needs to be taken against those BJP legislators and leaders who would attend the former Karanataka CM's rally ahead on his party launch. 
While Yeddyurappa has made it clear that he would not topple the BJP government in Karnataka, he would still like to convey a strong message to the party as far the support he enjoys goes.
Thirty BJP leaders are likely to join him on Sunday, sources point out. But Yeddyurappa wants to ensure that no action is taken against them and hence to dodge any such move, he has called for a breakfast meeting at Haveri. However, none of his supporters from the BJP will share the stage with him on Sunday in order to avoid any altercation with the BJP.
The core committee of the BJP will decide by Saturday evening on what action needs to be taken against those who attend Yeddyurappa's rally. They are most likely to issue a warning and a show cause
notice to the rebels.
Yeddyurappa, who quit the BJP last week, will hold a rally at Haveri at 11 am on Sunday. The launch will see the birth of another regional party in the state. But will Yeddyurappa's party be a success?  
In the past, regional parties such as the Congress (Urs), the Karnataka Kranti Ranga and the Karnataka Congress Party have failed to garner support. Many analysts say that although the concept of regional parties never worked in Karnataka, the case of the KJP will be different. It may not sweep elections, but will cause a great deal of damage to the BJP; it is expected to cause a split.
Although Yeddyurappa may not be backed by 30 legislators, as he claims, he is expected to gain support of at least 15. The BJP will find itself on a shaky ground if these leaders quit the party and finding replacement will be a challenge.  
All eyes will be on how the BJP manages itself once Yeddyurappa's party is launched. If it allows the Lingayat strongman to grow in strength, the ruling party can expect more detractors.  
What are the options before the BJP? There is a good number, which says, that the party should provide good governance and complete its term before going to polls, which are scheduled in May next year. However, in case Yeddyurappa gets aggressive there is every chance of the BJP dissolving the house and seeking a fresh mandate after the Gujarat elections.