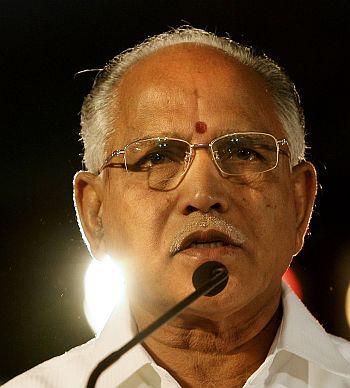 Daring the Bharatiya Janata Party to take action against the 13 members of Parliament who threw their lot with him and attended the formal launch of his Karnataka Janatha Party, former Chief Minister B S Yeddyurappa said they would resign en masse if the situation so warranted.
"In the coming days most of our supporters will take a decision to tender resignation to join KJP. If circumstances so warrant, they will resign en masse", he told reporters in Mandya after offering worship at the Nimishamba temple.
Under the prevailing situation, Chief Minister Jagadish Shettar should resign, he said.
Fearing loss of numbers, the BJP's state core meeting at Belgaum had yesterday refrained from taking any action against the MLAs, who defied the party diktat and shared the dias  with Yeddyurappa at the formal launch of the KJP at Haveri on Dec 9.
Yeddyurappa, who also offered prayers at the tomb of Tipu Sultan, said his party was built on secular ideology and that he needed the support of all sections of society.