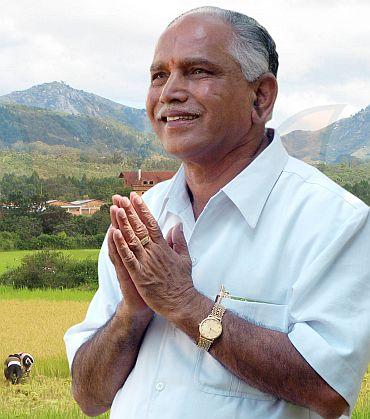 The Central Bureau of Investigation court in Bangalore on Monday granted bail to former Chief Minister B S Yeddyurappa, his two sons and son-in-law besides nine others in an illegal mining kickback case.
CBI judge M C Biradar, while imposing certain conditions, directed the accused, also including former minister Krishnaiah Setty, to furnish a personal bond of Rs 2 lakh each and surety of the like sum.
The court asked the accused to regularly appear before it on each date of hearing, not tamper with the prosecution witnesses, surrender their passports and not to leave the country without its permission.
The matter was adjourned to January 29 for hearing 'before charge'. Yeddyurappa, his sons B Y Raghavendra, an MP, and B Y Vijayendra, son-in-law R N Sohan Kumar and Setty were present in the court on the summons issued by the court on November 16.
Observing that it was a fit case for extension of 'this liberty' (bail), the court taking into consideration the status of the accused, stated 'it could not gather that the accused would tamper with the prosecution witnesses or there was any possibility of their absconding'. 
The court also observed that the investigation was already over in the case. Earlier, the court agreed with the contention of the special public prosecutor that the interest of the state was important and proper conditions were required to be imposed on the accused if granted bail.
On October 16, the CBI had filed before the special court of CBI in Bangalore a charge sheet against Yeddyurappa, his sons, son-in-law, Setty, CEO & senior vice-president of a Bellaryc based private steel company, a Shimoga based Trust and five Bellary based private companies for alleged abuse of official position and corruption.
The accused had been charged under sections 120-B r/w 109, 420, 468, 471 IPC; sections 7, 9, 11 12, 13(2) r/w 13(1)(d) of the Prevention of Corruption Act, 1988 and section 9 r/w sec4 of Karnataka Land (Restriction on) Transfer Act.
The CBI had registered a criminal case against Yeddyurappa and others in pursuant to the directions given by the Supreme Court on May 11, 2012.
During investigation, it was revealed that the accused allegedly hatched a conspiracy during 2009-2010 and pursuant to the conspiracy, the two sons and son-in-law of  Yeddyurappa purchased land for Rs 40 lakh which was notified for acquisition by the Karnataka goverment by violating various laws.
The land was denotified from acquisition by then Chief Minister Yeddyurappa by allegedly abusing his position in violation of several government rules.
Further, the same land was sold at an exorbitant rate of Rs 20 crore to a Bellary-based private group of companies even though the guidance value of the land was Rs 1.5 crore.