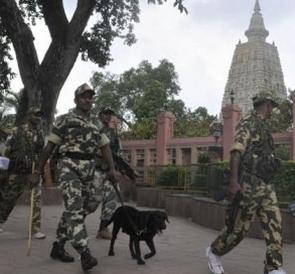 Pakistan's spy agency Inter Services Intelligence had reportedly drawn up a plan to target Buddhist religious sites in India to avenge the alleged atrocities against the Rohingya Muslim community in Myanmar.
The ISI's plan was revealed by Yasin Bhatkal, founder of the Indian Mujahideen, who was recently arrested from near the Indo-Nepal border.
The operation would have been carried out in tandem by the IM, the Al Qaeda and the Hizbul Tahrir, a Bangladesh-based terror outfit.
However, Bhatkal has not yet admitted that the Indian Mujahideen had any role to play in orchestrating the attack at Bodh Gaya in July.
Initially, Al Qaeda leaders had sought a merger with the IM to jointly carry out the terror plan. But the ISI had thwarted the proposal as it wanted the IM to continue its terror strikes in India.
As per the final consensus between the terror groups, the IM was supposed to help the Al Qaeda in carrying out strikes at Buddhist sites.
At the time of his arrest, claims Yasin, the modalities of the operation were being discussed.
The Al Qaeda would have funded the operation and supplied arms that would be routed via Bangladesh by the Hizbul Tahrir.
The IM was supposed to carry out the final attacks in India.
Buddhist religious sites make for easy targets, revealed Yasin, as the security in such places is not up to the mark. The IM chief was quick to claim that the terror outfit had absolutely nothing to do with the recent attack on Bodh Gaya.
He told the NIA that the IM was looking for similar disruptive alliances and had already tied up with the Naxals. While IM's terrorists had striking capabilities, the left-wing extremists possessed a better logistical sense, making the coalition a dangerous one.
The homegrown terror outfit was also in touch with some drug syndicates in Chapora in Goa to raise funds. IM operatives, with their extensive network, helped in ferrying drugs to earn a share of the profits.
Forging such alliances was essential for the IM, explained Yasin, as they were was a perpetual shortage of money to fund their terror plans.
"When the ISI ordered a cooling-off period, we had to fend for ourselves. After the first modules of the IM were busted, we had resorted to extortion and drug trade. We even raised funds through our alliances to keep the outfit running," Yasin told his interrogators.
Image: Security personnel at Bodh Gaya after the blast ' Photograph: Reuters