Here's your weekly digest of the craziest stories from around the world.
At this gym, you nap for 45 minutes -- and still burn calories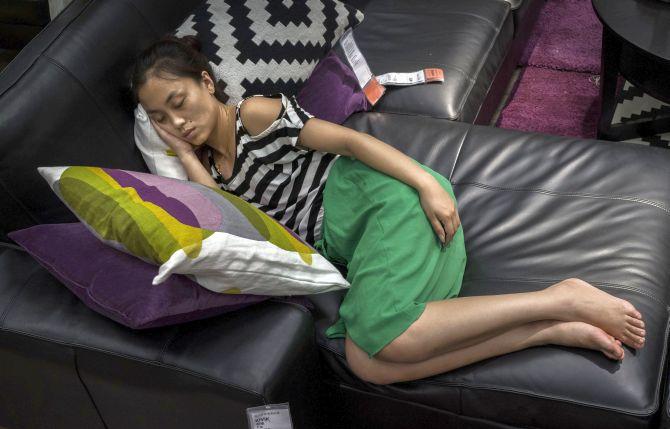 Ever feel like you should conform to society's rules and get a gym membership - but you just really hate exercise?
Well, there's a new gym class in town which could be right up your street.
David Lloyd gyms, which have branches across the UK, have introduced 'Napercise' classes where participants do nothing but sleep for an entire 45 minutes during the afternoon.
Sounds heavenly, right?
Guests who arrive in the studio won't find any spin-bikes or treadmills - just a load of single beds.
Forget the upbeat workout tunes. Instead there is atmospheric music to help you relax and catch some Zs.
Snoozing still burns calories, so you're not technically cheating. And the studio temperature will also be dropped to a level that promotes calorie burning during sleep.
---
Obese monkey sent to 'fat camp' in Thailand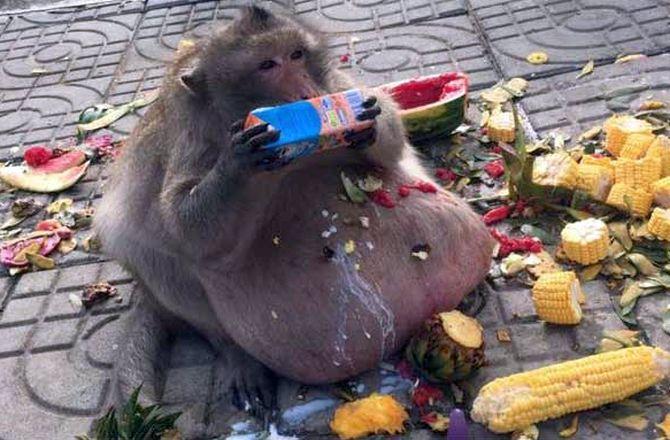 A monkey that lives near a famous Thai floating water market in Bangkok has steadily been gaining weight after gorging on food fed to it by tourists. The monkey weighs a whopping 15 kilogram, which is almost double the standard weight for the creatures.
They usually weigh between 8 to 10 kilogram. The morbidly obese long-tailed macaque is now being sent to 'fat camp' where it will be put on a strict diet and made to 'run around' with other animals.
Concerned locals alerted wildlife officials about the fat monkey - who would often snack on sugary foods including sweet corn, watermelons, noodles and milkshakes left behind by visitors.
---
Doggy ice cream has tails wagging in Mexico City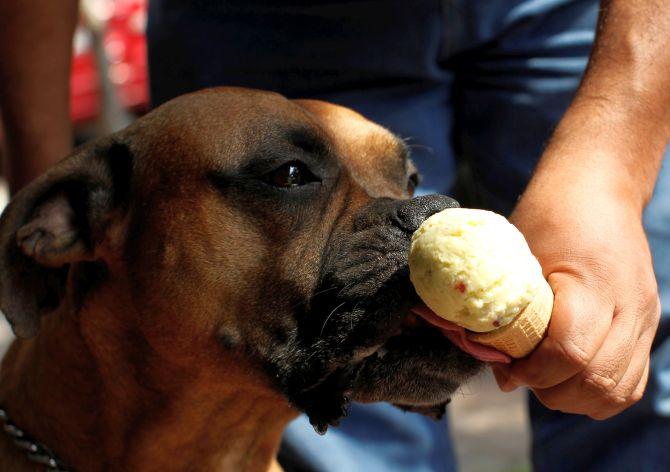 Dogs with a sweet tooth can finally satisfy their ice cream cravings -- at the Don Paletto parlour in Mexico City.
Owners can satisfy their pets' sweet cravings at the shop in the Mexican capital, which offers a variety of frozen cone and lollipop treats especially made for the animals.
Made of natural yogurt and lactobacilli bacteria, it can help digestion while normal ice cream can cause pain and diarrhoea in dogs, according to shop owner Mauricio Montoya, who said the food is also safe for humans.
---
'Simpsons' superfan gets arm inked with 52 Homer tattoos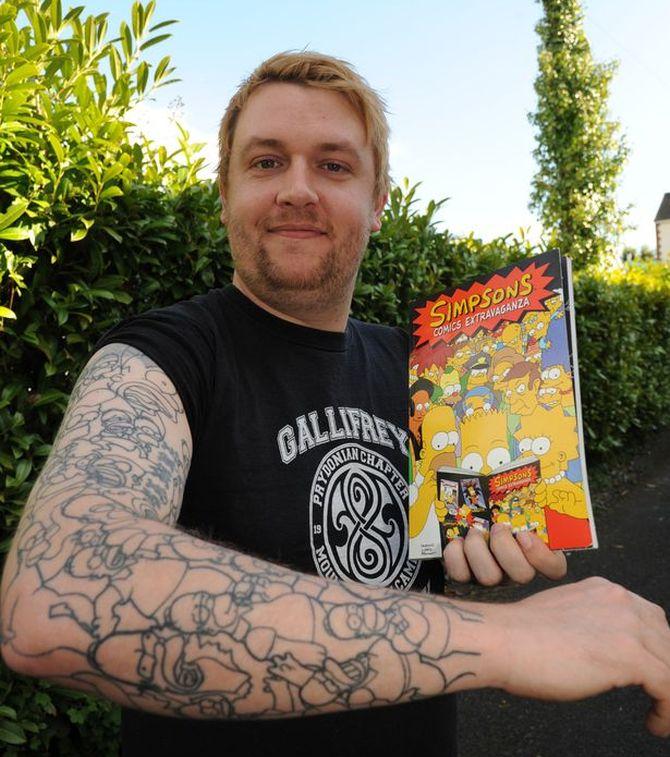 Simpsons fans can be obsessed, but few are as faithful as Ricky Viner.
The 32-year-old restaurant manager is such a big fan of the animated series that he had his right arm inked up with 52 separate tattoos of Homer Simpson.
Viner of Wiltshire, UK, fell in love with the cartoon series as a child.
Viner hopes to get into Guinness World Records by having the most tattoos of a single cartoon character.
Woo hoo!
Viner decided to the perfect character to put on his arm was none other than the doughnut-loving dad.
So the artist drew various Homers -- 52 in all -- on Viner's right arm, from shoulder to wrist. The complete tat took 14 painful hours in two separate sessions. It shows Homer's face in different expressions.
---
Bra rigged with a countdown clock until marriage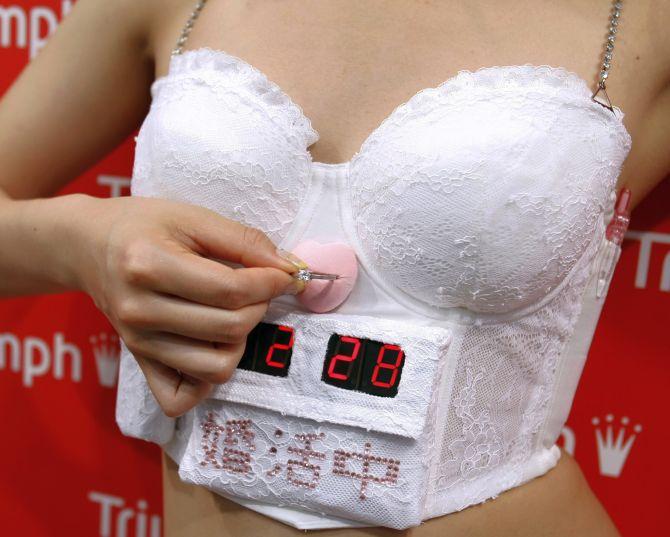 If playing Beyoncé's hit, "Single Ladies (Put A Ring On It)," on repeat hasn't done enough to pressure your boyfriend into proposing, then Triumph International's new "Marriage Hunting" bra should do the trick.
Not only is the bra rigged with a countdown clock that shows how long until the wearer wants to get married, but it's lacey and white like a wedding dress to really hammer home the point.
The funniest part (or most horrific, depending on your perspective) is that the bra plays "The Wedding March" when an engagement ring is inserted into the pink slot above the clock.
---
Monty, the python gives soothing massage at a salon in Germany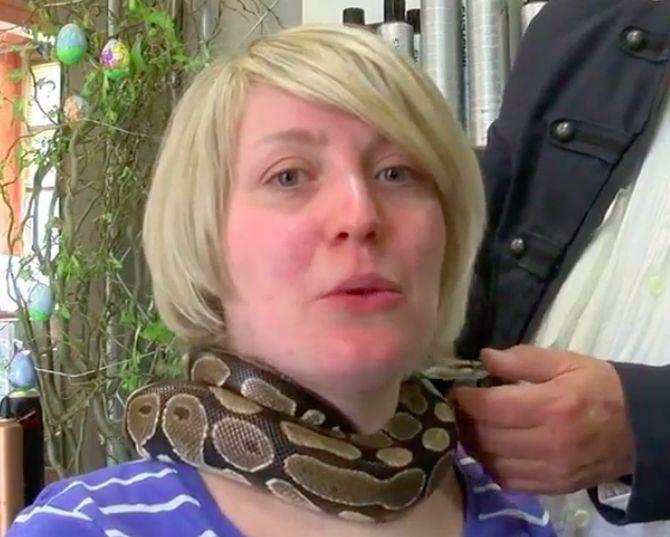 A hair salon is stretching the boundaries by it's marketing strategies. The salon is drawing customers by hiring an unusual employee - a 13-year-old python that gives neck massages.
The Haar Mode Team salon in Dresden, Germany is now offering neck massages performed by Monty, the owner's pet python
The Python sits around the customer's neck and gently pulsates to massage the neck. Monty's services are now in such high demand that he offers the snake massages to customers two days a week.