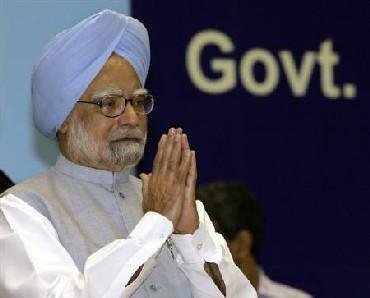 Amid fears of a decline in the country's gross domestic product, former prime minister Manmohan Singh cautioned the people on Wednesday that the worst was yet to come in the wake of demonetisation which he termed as a 'disaster'.
In his address at the 'Jan Vedna' conclave, Singh termed demonetisation as a 'disaster' and said things have gone from bad to worse and that the worst was yet to come.
He dismissed as 'hollow claim' and (Prime Minister Narendra) 'Modi's propaganda' that things have started looking up.
The former PM said it was the 'solemn duty' of all Congress workers to tell the people the wrongs that have been done by Modi and that a 'clarion call' should be given to the countrymen to 'awake and rise' up in protest.
Both Singh and former finance minister P Chidambaram said there would be decline in the country's GDP because of demonetisation.
Chidambaram, in his address, said there is no record of the cabinet meeting of November 8. "Where is the cabinet note? Where is the cabinet decision?" he asked.
He said that never before in India's history such a farce has been enacted. The former finance minister also said that the reputation of the Reserve Bank of India is at risk today.
The government and the central bank generally have differences but never before a government has treated the RBI like a department of the government of India, he added.
He said that even one per cent decline in GDP will lead to a loss of Rs 1.5 lakh crore to the country. He said every challenge thrown by Modi government should be matched by the Congress with utmost courage and utmost wisdom.
"Only the Congress party can stand up to this (challenge)," he said.
The party also issued a statement at the convention that the prime minister must reveal what percentage of the demonetised currency notes was black money as practically all the demonetised notes have been deposited in banks.
"This exposes the hollowness of the government's claims. The PM is masquerading as a crusader against black money and corruption after having singularly failed in fulfilling his promises of retrieving the unaccounted wealth and money stashed abroad," it said.
The party said India's image has been tarnished by projection that the Indian economy was primarily based on black money.
'It is also a matter of concern that during the 50-day period of 'notebandi', an unholy nexus of certain corrupt BJP (Bharatiya Janata Party) leaders, black-marketeers and bank officials were shown to be operating by various media channels, indulging in illegal conversions of stockpiles of currency,' the party said.
It said for the corrupt black money holders, the back door of banks operated, while the common man waited for his turn in lines at front doors.