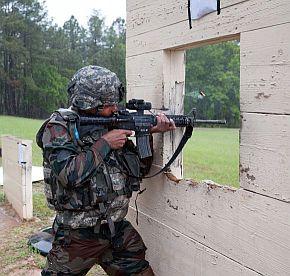 A New York Times report reveals what went down as the Special Forces of 18 countries faced off in mock battle.
It's the sort of scenario you see in Hollywood movies about the shadowy world of counterterrorism warfare – think Zero Dark Thirty, or Delta Force; only, it's for real.
The world's most elite commandos – 32 teams from 17 countries plus Palestine – squared off in Jordan in what is being billed as the counterterrorism Olympics: The Warrior Competition.
In The New York Times', Josh Eels, contributing editor for Rolling Stone, who attended the competition at the King Abdullah II Special Operations Training Center in Jordan, gives a detailed account of what went down.
Why Jordan? Because the kingdom, Eels writes, 'is a close partner of the CIA in the Arab world.' Trainers at the KASOTC, he reveals, taught actors playing SEALS in Zero Dark Thirty.
'Over the next four days,' Eels writes, 'the teams would raid buildings, storm hijacked jets, rescue hostages and shoot targets with live ammunition, all while being scored for speed and accuracy. It was a stage-managed showcase for the 21st-century soldier — not the humble GI, but the post-9/11 warrior, the superman in the shadows, keeping the world safe from murky threats.'
The teams included Canada's Special Operations Regiment, recently back from Afghanistan, the Swiss Skorpions, the Lebanese Black Panthers, and two from China including the overall winners Snow Leopard, a squad assembled before the Beijing Olympics. They won five of the 12 competitions.
The squad called Team America, Eels reveals, was actually a team put together by International Defense Systems, a military supplier. They of course included the legendary SEALs.
The US military did send three teams, but Eels focuses on a man from team America simply referred to as A, who served in Iraq and Afghanistan, and who comes across like the real Rambo – disinterested in the games.
Read the whole thing. It's a fascinating insight into modern warfare and the modern soldier, besides being some very cool writing. We'll leave you with another sample from Eels:
'When they arrived, the reception was in full swing. The Malaysians were on the patio, drinking juice. The Russians were at the bar, definitely not drinking juice. There was tuna carpaccio and crudités and little ceramic bowls of gourmet potato chips. Outside, Sgt. Shkendije Demiri and Capt. Brittney Ray stood chatting in their uniforms. Demiri and Ray, both in the US Army, are the first two women in the history of the competition. The Arab teams, in particular, seemed to love them. "They all want to take photos with us," Ray said. "It's like seeing a unicorn."'