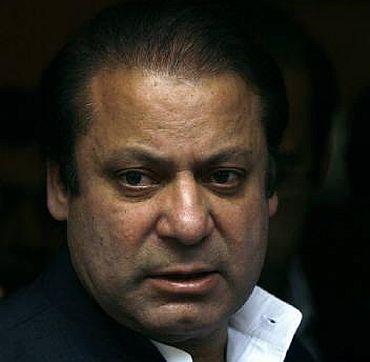 Refusing to play second fiddle to the powerful military, former Pakistan Prime Minister Nawaz Sharif has said he will be the Army chief's "boss" if voted back to power in the May 11 general elections.
A combative Sharif, whose party Pakistan Muslim League-Nawaz is widely expected to form the next government, hinted that the current army chief General Ashfaq Parvez Kayani would be replaced by the "senior most" when he retires in November.
"All I know is when I was a prime minister, the policies were being formulated by federal government, by the civilian head of the state and then of course executed by the institutions," Sharif said in an interview to Karan Thapar on CNN IBN's Devil's Advocate.
"I want that to continue and I'm very clear on that, that everybody must remain in their respective domain," he said. He was replying to a query if under his rule, the army would continue to control Pakistan's relations with US, India besides security policies of the government.
Asked if that means the prime minister will be army chief's boss, he said, "He is. The army is an attached department of the federal government and of course the chief of army staff works under the federal government and implements the policies of the federal government".
Replying to a query if he would give an extension to Kayani, he said, "I don't think he will ask any further extension or he will be interested in any further extension. I will go by the book; I will go by the merit. Who so ever is the senior most, will have to occupy this...the next one, the next in line".
Sharif who spoke on a wide range of issues also stressed on the importance of a combination of dialogue and armed intervention as the answer to combat terror in Pakistan.
He also said he has no vendetta against former military ruler Pervez Musharraf but said he will bring a treason trial against him for imposing martial law twice in the country.
"I think this problem has to be solved on priority basis, there is no doubt about it. And you can't really solve all the problems through guns and bullets, you got to also explore other options.
"Options of engagement, may be those options work, in many countries problems have been solved by sitting across the table...I think all the options would have to be exercised," Sharif said.
"We will have to have all the stakeholders sitting on the table, discuss the matter with them openly, candidly and very frankly and arrive at a policy and a strategy that is workable.
"And I think all those forces inside Pakistan, outside Pakistan will also have to be invited and we must then listen to each others concerns, address them and them pave the way for a solution to this problem," he said.
Speaking about Musharraf, Sharif said he did not have any personal vendetta to settle.
"He has imposed martial law twice in Pakistan, first in 1999 and again in November 2007. He abrogated the constitution, he fired the judges, he dissolved parliament unconstitutionally. I think he has to pay for that," he said.
Asked if that meant he will sanction a treason trial against Musharraf, Sharif said, "That is not a crime that I can forgive, I think the nation will have to decide as to what the nation wants against him and then it will be left to judiciary and the judges to try and to decide".
Speaking about his economic revival plans, Sharif said he would float an international tender for generating power from Thar coal mines.
"Indian businessmen are getting power from this coal, they are generating power from coal in India. Why can't we do it? I think we will float an international tender, bidding and may be Indian businessmen can come and invest in Thar coal in Pakistan. We will be happy to welcome them".