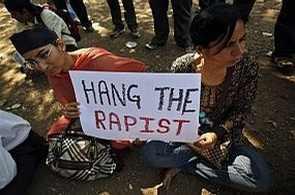 A 35-year-old tribal Garo woman was killed when she resisted an alleged molestation and rape attempt in South Garo Hills district of Meghalaya by suspected Garo National Liberation Army militants, who shot her at point blank range, sparking outrage in the state.
The woman was at home with her husband and five children when four to five armed militants of the GNLA entered their house around 6 pm on Tuesday. They locked up her husband and five children inside the house and pulled out the woman, police said.
She was first assaulted and molested. When she resisted, they shot her with automatic assault rifles from point blank range blowing her head in almost two pieces, Inspector General of Police (operations) GHP Raju said.
GNLA was declared a terror organisation by the Centre in January 2012. The banned outfit is allegedly involved in several cases of murder, kidnapping and extortion in all three Garo Hills districts in Meghalaya.
P A Sangma, member of Parliament representing the Garo Hills region, condemned the incident and said the law and order situation in region was worsening every day.
"I strongly condemn the incident and am worried over the Garo Hills situation which is worsening every passing day. This has never been the case in the past. The state government has failed in tackling the situation," Sangma said.
He said a delegation of his National People's Party would meet the Minister of State for Home Khiren Rijiju to apprise him of the situation.
The incident came close on the heels of the countrywide outrage over the gang rape and murder of two teenaged cousins in UP's Badaun district. The girls, reported missing by their families on May 27 night, were found hanging from a tree the next morning.

Image: A protest against increasing cases of rapes in the country