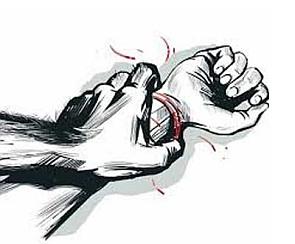 With the outrage over the Badaun gangrape still echoing across the country, news of yet another incident of similar brutality has come in from Sitapur district of Uttar Pradesh.
A 15-year-old girl was allegedly murdered and her body was found hanging from a tree in Misrikh area of the district.
The girl went missing on Monday night from Benipur village and her body was found in Misrikh area on Tuesday, police said.
The police has sent the girl's body for post mortem.

The father of the girl has, meanwhile, alleged that she was raped.
"My daughter was 15. The guy who did this has no child. He was forcing us to get our daughter married to him. We refused saying you are too old, our daughter is only 15 and you are 40. He got hold of my daughter, killed her and hanged her on a tree," said the father.
Six persons, including a neighbour and his three sons were booked on a complaint filed by the girl's father, Circle Officer JP Singh said, adding that a hunt has been launched for the accused who are absconding.
"The father is alleging that because of marriage issues, some people had enmity with them. He says that these six people killed and hung his daughter. We have filed a case under Section 302 and the girl's body has been sent for post-mortem," said a policeman.
In the last two weeks, Uttar Pradesh has seen three instances of rape -- in Badaun, Azamgarh and Etawah.
Two teenaged cousins, aged 15 and 14, were gang-raped and killed on the night of May 27 in Badaun. Their bodies were found hanging from a tree the next day. Police had allegedly refused to register a first information report for hours. Five people, accused of raping and murdering the teenagers, were later arrested. Two cops were dismissed from duty.