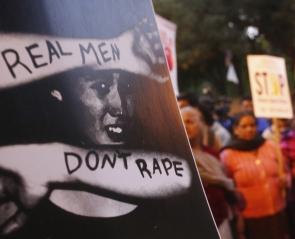 In growing incidents of crime against women, a girl, aged 5, was killed and raped in Ahmedabad. A 17-year-old boy was arrested on Thursday in Ahmedabad for allegedly raping and killing a girl, aged 5, from his neighbouring locality.
The incident came to light after the father of the girl, living near Sola bridge area in the city, approached the police when his minor daughter went missing at 10 am yesterday.
While searching for the girl, the police learnt that the victim was last seen with the young boy working as a cleaner with a private bus operator.
In a separate incident, a woman, 25, was allegedly gang-raped in a moving car in south Delhi.
The victim was allegedly gang-raped by three men in a moving car in south Delhi following which the police arrested three persons. The woman had approached the police on Wednesday night after which an FIR was registered, a senior police official said.
Image is used for representational purposes only. Photograph: Anindito Mukherjee/Reuters