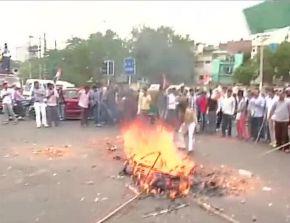 Congress workers on Thursday staged a protest in south Delhi's Khanpur area against the prolonged power cuts in the national capital.
Accusing the Bharatiya Janata Party and the Aam Aadmi Party of being responsible for the power crisis, Congress leader JP Agarwal said that his party would not sit quietly while the problem continues to affect the people of Delhi.
Agarwal attacked AAP for failing to devise a summer action plan for electricity supply when it was in power for 49 days in the national capital and also hit out at BJP saying it had failed to offer any solution to the crisis. "BJP does not know how to run an administration. Power minister Piyush Goyal didn't give a solution, instead he criticised us.
"AAP was in power till February 14, but did not chalk out a summer action plan. So, both (BJP, AAP) are responsible for the current power crisis for which Delhiites are suffering," said Agarwal.
He further said that Congress smells a conspiracy in the statements of all who are claiming that damage caused to electricity towers and lines in the May 30 storm in the city is the cause behind the recent spate of power cuts. "Have there never been storms and rains before in the past. We smell a conspiracy here. During Congress rule, people of Delhi were getting enough power," he added.
Scores of Congress workers had on Wednesday staged a demonstration in the Mundka area against the long outages. The protesters, led by party leader Naresh Kumar, had also blocked the Rohtak road, causing a traffic snarl that lasted several hours.
Image: Congress workers protest on the streets against the lack of electricity in New Delhi. Photograph: ANI's Twitter page.