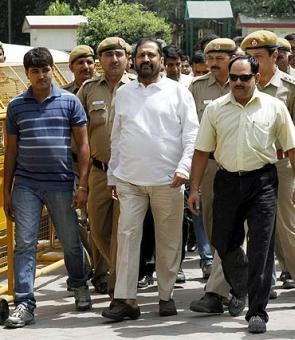 The Congress has remained ambivalent on the issue of giving tickets to tainted leaders like former Maharashtra chief minister Ashok Chavan, who shared the dais with party vice-president Rahul Gandhi at an event on Wednesday, and former chairman of the Commonwealth Games Organising Committee Suresh Kalmadi in the Lok Sabha polls.
"There may be a Commission of Inquiry. There may have been further investigations. Charge-sheet or an FIR is not a conviction," party spokesman Sanjay Jha told reporters.
He was replying to a number of questions on the possibility of tickets being given to Chavan and Kalmadi, who have been linked to the Adarsh housing scam and alleged irregularities in the Games respectively.
There has been a Commission of Inquiry in the Adarsh scam.
Jha said that it was Rahul who had played a key role in ensuring that the Supreme Court verdict that prevents convicted lawmakers from contesting elections is upheld.
Chavan's case is already being investigated by the Central Bureau of Investigation and if the agency indicts him and charge-sheets him, and if he is convicted, then the Supreme Court verdict will come into play.
At the same time, there is no bar against fighting an election in the absence of a conviction.
Today, Chavan shared the stage with Rahul when he addressed a rally in Aurangabad. On the stage, he went to Gandhi and wished him with folded hands.
Chavan and Kalmadi are reportedly campaigning to get tickets for their wives in the Lok Sabha polls.

Chavan has been trying to get a ticket for his wife Ameeta from Nanded, while Kalmadi has been doing his best to get his wife Meera a ticket from the Pune Lok Sabha constituency, which he currently represents. He has been suspended from the party.
Chavan, who lost the chief minister's post in 2010 after his name surfaced in the Adarsh scam, was himself keen on contesting from Nanded constituency.
Image: Suresh Kalmadi