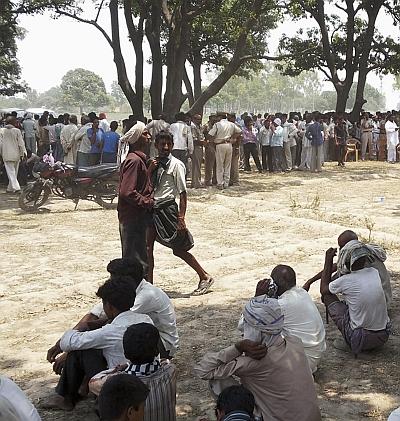 Accusing police of destroying vital evidence, the father of one of the two teen-aged cousins, who were found hanging from a mango tree in Badaun, on Saturday threatened that the family members would hang themselves from the same tree if "justice is not done in the case".
"If justice is not served, we will hang ourselves from the same mango tree, where our two daughters were found hanging," said father of a girl. In a new twist in the Badaun killings case, the Central Bureau of Investigation, which is probing the matter, said the DNA report from the Centre for DNA Fingerprinting and Diagnostics in Hyderabad confirmed contradictions in the theory of rape.
The father of one of the victims said, "The police had already destroyed vital evidence. Even the CBI is probing on the lines of investigation done by the Uttar Pradesh police."
"The police provided clothes of the girls to the CBI, which were sent for DNA testing. The role of police is suspicious since the begining," he alleged.
The two cousin sisters -- aged 14 and 15 -- were found hanging from a tree in Badaun district of Uttar Pradesh in the last week of May, an incident which sparked national outrage with the Samajwadi Party government in the state coming under fire on the issue of law and order situation.