The opposition invested in people to speak badly about the Aam Aadmi Party, says Prithvi Reddy, national executive member of AAP. Vicky Nanjappa reports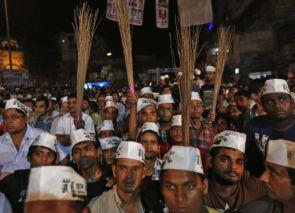 The Aam Aadmi Party that has made a striking debut in the Delhi Assembly polls has said it will not take or give support to any party to form the government. Prithvi Reddy, national executive member of the Aam Admi Party, told rediff.com that it would, if need be, sit in the opposition or seek President's rule if no party is able to form the government.
"I would not want to be in Harsh Vardhan's (BJP's chief ministerial candidate) shoes. The opposition he will face will be strong and fierce says Reddy.
"It is a historic day for the country. Ours is an old country and a young democracy. It is victories such as this which shows that we have hope. When we were fighting for the Jan Lokpal Bill, they told us to contest elections and we did just that," said Reddy.
"We are happy to be in opposition. We will keep the government on its toes. If the government does wrong we will punish them," he added.
"Yes, it was a close fight. We did realise that in some constituencies we lost by 200 votes. This was a last minute change as these people felt that their votes would go waste.
The issue regarding Shazia (Ilmi, who lost the R K Puram seat to Anil Sharma of the BJP by a slender margin) has been blown out of proportion. She was fighting a brave election and when someone stands by the truth there is a price they have to pay. She was a good candidate and the voter made an error of judgement."
"AAP provided a true alternative. BJP was only a substitute here. We have indeed created history. My message to the BJP would be to fight for a Corruption Mukth Bharath.
On the issue of funds (UPA government had launched a probe into the foreign contributions received by AAP), let me tell you that the moment the home ministry raised the issue, we got more money in three days than what we got in a month. People see through such tricks. Everything was transparent. In fact, the whole issue started with a Rs 500 donation, which if you look closely was intentional and done by a chamcha of Subramanian Swamy (President of the Janata Party). It basically was an issue that was being discussed by armchair critiques."
Reddy said the opposition had invested heavily for people to speak against the AAP. "Anna Hazare has every right to ask us questions and we have answered them. We have respect for him but believe that he was influenced and trapped against us. We don't want to argue but would prefer to work instead," said Reddy.
"Arvind Kejriwal is an exemplary leader. He is the only one who commands respect where as Rahul and Modi demand it. There lies the difference," Reddy added.