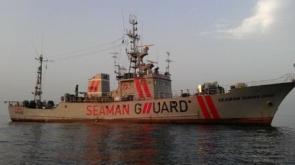 Nearly a month after MV Seam Guard Ohio, a ship owned by an American security firm and headed to Sierra Leone, was intercepted in Indian waters, authorities are no closer to finding answers to any of the questions they have about the ship and its mysterious crew members.
While a report has been submitted to the ministry of defence and the ministry of external affairs, an investigation is also being conducted by the Q branch of Tamil Nadu police, which has been questioning two Indians and one British national who were on board the ship.
None of the crew members have been able to provide a satisfactory explanation for the presence of arms and ammunition on board the ship. Though they have claimed that the weapons were meant to fight piracy, investigators could find no log book with details of the arms, as is the standard practice in such cases.
The Union government will have to take up this issue diplomatically with the United States, as AdvanFort, an American security firm, owns the ship.
The ship's crew, which included 21 armed guards, did not possess Indian visas. Their entry in Indian waters amounts to infiltration and it is a serious offence, said an official who is part of the investigation.
The crew members have been booked under the Arms Act and the Passport Act. Though they have been questioned for a long time, they have not been able to provide any explanation for why there were no records on the ship about its 'anti-piracy operations'.
Indian officials believe that the crew members are "hiding something big".
"This may be a case of illegal arms transfer. We need the external affairs ministry to take up the issue to rope in international agencies for this probe," said an official involved with the investigation.
This incident comes in the wake of reports by the Intelligence Bureau which had warned about ships from Sri Lanka carrying arms for the Chinese establishment.
Indian officials are not buying the clarifications issued by AdvanFort either.
"We can sense that there is a lot of pressure on the crew members. One of them has even tried to commit suicide," said the official.
Even if the crew members are cleared of the serious charge of illegal arms transfer, they can be booked for several other violations.
AdvanFort has claimed that Indian authorities had permitted the ship to enter Indian waters and refuel, before Cyclone Phailin hit the eastern coast on October 12. But neither were Indian authorities informed about the arms on board nor did the crew members have a valid visa.
The external affairs ministry will have to pursue the issue diplomatically to ascertain the real agenda behind MV Seam Guard Ohio's presence in Indian waters.