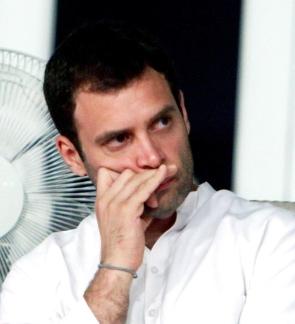 Vishal Diwan, an engineering student from Hoshangabad, Madhya Pradesh, has approached the Guinness Book of World Records and requested to enlist Congress vice president Rahul Gandhi's name for losing as many as 27 elections after becoming the vice chief of the grand old party.
Asserting that he has approached the Guinness Book of World Record for making Gandhi internationally famous, Diwan on Tuesday said that his form has been accepted, adding he is looking forward to a reply from the United States-based record book.
"Ever since Rahul Gandhi became the vice president of the Congress, the grand old party has lot 27 elections. He has no recognition leaving that he is a part of the Gandhi family. So this endeavour of mine is intended to fetch some fame for him on the international platform. My form has been accepted. Rest, there is a procedure to follow, which will be done as soon as they world record people contact me," said Diwan.
Diwan believes the Congress' losing spree in last five years is somewhere a result of Gandhi's active participation in election campaigning and media interactions.
However, the Guinness Book of World Record has not confirmed whether it will approve such a request or not.