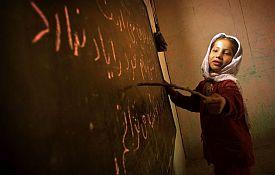 The Pakistani Taliban have barred children from going to schools in North Waziristan after security forces set up a road block as part of security measures in Miranshah town, according to a media report on Tuesday.
The 'Shura' or council of a Taliban faction led by Hafiz Gul Bahadur yesterday warned parents not to send their children to five schools near the cantonment in Miranshah, the main town in North Waziristan Agency.
The move came after security forces set up a road block on the main artery of Miranshah.
The Taliban barred boys and girls from going to school until security forces removed the barricades, the Dawn newspaper reported on Tuesday.
"Boys and girls will not go to these educational institutions until the road is opened for general public. If any boy or girl violates the decision of the Shura then he/she will be responsible for the consequences," said a statement issued by the Taliban faction.
Security forces blocked the road after a suicide attack on Esha check post last month killed 24 soldiers and injured 40 others.
Security has been tightened in the area since the attack.

Imposition of curfew in areas along the road has affected social and economic activities.
The Taliban statement said the road block was causing inconvenience to the people and had forced hundreds of girls to pass through main streets and markets.
"The movement of young girls and women through streets is against the teachings of Islam and local traditions. Therefore the Shura and the tribal people cannot tolerate it," the statement said.

The decree was issued even though the faction led by Hafiz Gul Bahadur had signed a peace deal with the government.

The statement said this pact was signed "for the glory of religion and to protect the dignity of the local people".

The Taliban said their Shura had not banned education in the area but the militants could not tolerate anything that negated tribal values and traditions.
The Taliban decree has affected hundreds of boys and girls.
The cantonment in Miranshah has three semi-government English schools for boys, a high school for girls and a degree college for girls with over 400 students.
Educational institutions across Waziristan and in other parts of the tribal belt have already been badly hit by militancy and violence.