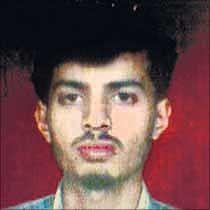 From letting him off after questioning to delay in issuing a red corner alert -- numerous procedural lapses have ensured Indian Mujahideen founder Riyaz Bhatkal, wanted in many terror cases including last week's twin blasts in Hyderabad, still remains untraceable. Vicky Nanjappa reports.
Every dossier on Riyaz Bhatkal, hailing from coastal Karnataka town Bhatkal, indicates that he is a key operative who helped set up the Indian Mujahideen.
Riyaz's links to Pakistani spy agency Inter Services Intelligence were established by the Bhatkal police 12 years back during an arms haul. However, Riyaz continued to remain in Bhatkal and the police failed to arrest him.
In 2005 after the attack on the Indian Institute of Science, Bangalore, Riyaz was brought in for questioning to the joint commissioner's office. He was questioned for nearly two hours before he was asked to leave.
An officer who interrogated Riyaz in Bhatkal says he ought not to have been let off after the questioning. "He may not have been directly involved in the IISC case, but there were two strong instances to prove that he was turning into a rogue element. His name figured in the ISI arms haul case which was busted at Naduwa College in Bhatkal. After this he had left for Lucknow where he came in contact with some radical Students Islamic Movement of India activists who coaxed him to take to terror," the officer said.
Following this he returned to Bhatkal which had a massive Lashkar-e-Tayiba presence by then. Riyaz worked behind the scenes between 1999 and 2005 to set up dedicated modules in Bhatkal. When there was such specific intelligence on him, the question is why he was let off after questioning.
The officer who questioned him at that time told Rediff.com that he was viewed as a suspect and there was no involvement of his which was found.
However, after his questioning in 2005 by the Bangalore police, Riyaz Bhatkal went off the radar and has remained un-traceable till date.
Sources in the Intelligence Bureau point out that he left for Dubai from Karnataka and remained there for two years where he started setting up the Indian Mujahideen.
Ironically, the red corner alert against Bhatkal was not issued until last year. Since he hailed from Karnataka, it was the duty of the Karnataka police to issue a red corner alert through the Interpol. The delay in issuing a red corner alert hurt the agencies very bad and the subsequent devastation that the Indian Mujahideen has managed to cause tells the story.
The Bangalore police argued that a red corner alert could be issued only against those who have a history of cases lodged against them. This would mean that since 1999, despite his involvement being found in several cases, not a single case was lodged against him. The city police also say that until the Bangalore blast case, Riyaz Bhatkal was not an accused in any of the cases, and hence there was no red corner alert issued. He was questioned several times as a suspect, but no cases were lodged against him.
The non existence of a red corner alert against Bhatkal helped him move around freely and he was never on the radar of the Interpol too.
An officer who was in Bhatkal at the time Riyaz was there says that this procedural lapse has proved to be fatal.
"Riyaz started off as a smuggler. He had not shown any signs of being a terrorist. It was one visit to Lucknow that changed everything for him," the officer noted.