Seven political and administrative reasons were given to convince the Congress leadership while proposing the creation of Rayal-Telangana. Vicky Nanjappa reports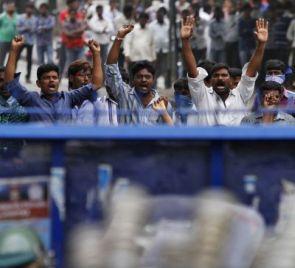 Union Ministers Ghulam Nabi Azad, Jairam Ramesh and Veerappa Moily deliberated upon seven important points before proposing the creation of Rayal-Telangana.
Sources told rediff.com that the three Congress leaders managed to convince both Prime Minister Dr Manmohan Singh and Congress president Sonia Gandhi stating both political and administrative reasons. Seven reasons were given to convince the leadership, which may go ahead with the proposal of Rayal-Telangana.
The main contention was to curb the growth of YSR Congress leader Jagan Mohan Reddy, who is strong in the Rayalaseema region.
By adding Kurnool and Ananthpur from Rayalaseema into Telangana could split his voters. Even the small vote share that Chandrababu Naidu (Telugu Desam Party) enjoys in this region could be negated with this merger.
The Congress feels that with Andhra Pradesh Chief Minister Kiran Kumar Reddy playing spoil sport, it was time for a new leader to emerge. The Congress would benefit with the merger of these two districts and a new leader would be born by the division of Andhra Pradesh into two halves.
On the administrative front, the three leaders, especially Moily, said that it was important for Hyderabad and Bengaluru to have direct connectivity. Both are IT capitals and need to be connected. If the two districts are added to Telangana, which has Hyderabad as the capital, then that continuity does not break.
Water issues too could be sorted out with this merger. The Srisailam Hydel Generation project would remain in one region and the question of sharing would not arise.
The ministers also stated that if the merger comes through then a constitutional amendment to keep Hyderabad as the common capital would not arise.
It would also ensure that the state is divided equally. Rayal-Telangana and the rest of Andhra would have 21 and 147 parliamentary and assembly seats respectively.
It was also suggested that there would be no protests in Rayalaseema to make Kurnool the capital of Andhra if it is merged with Telangana. The Congress leaders said that there would be protests seeking Kurnool as the new capital and this could be avoided with the merger.