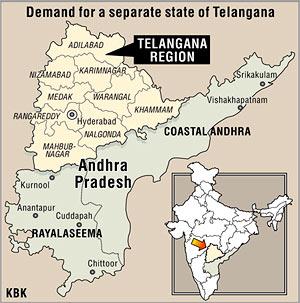 Hoping that the new state of Telangana will come into being by January, over a dozen Congress leaders from the region are said to be lobbying hard with the party high command for the chief minister's post.
The Group of Ministers, set up to look into the bifurcation of Andhra Pradesh, has finalised its report along with the draft Telangana Bill but remained non-committal on when it will be submitted to the Union Cabinet.
After getting Cabinet nod, the Bill has to be tabled in Parliament, whose winter session begins early next month. Notwithstanding the absence of any clear timeline, these leaders are hopeful that the new state will become a reality in the next two months.
According to party sources, three Union ministers, half a dozen members of Andhra Pradesh Cabinet, a few legislators/members of Parliament besides others are in the race for the top post. None of them has gone on record about their aspiration, but they are silently lobbying their case, they said.
Topping the list is Union Science and Technology Minister S Jaipal Reddy. Behind him are State Deputy Chief Minister C Damodara Rajanarasimha, Union Minister of State for Road Transport Sarvey Satyanarayana, Rajya Sabha member V Hanumantha Rao, National Disaster Management Authority Vice-Chairman Marri Sashidhar Reddy, senior AP Ministers K Jana Reddy, J Geeta Reddy and Ponnala Lakshmaiah, they said.
Other Ministers in the Kiran Kumar Reddy Cabinet such as Basavaraj Saraiah, D Sridhar Babu, P Sudershan Reddy and N Uttam Kumar Reddy, too, are fancying their chances while members of Legislative Council D Srinivas and Mohd Ali Shabbir have also thrown their hat into the ring.
Union Minister of State for Tribal Affairs Balram Naik's name is also being heard in the Congress circles here as a probable candidate for the CM's post.
Sashidhar Reddy, however, denied he was in the race. "There is a race but I am not in there," he claimed. Sarvey and Hanumantha Rao said they were not averse to taking up the job but left the choice to "amma" (Congress President Sonia Gandhi). "If there's amma's grace, I can become chief minister. I have the experience and the ability to take up the job," Sarvey said.Hanumantha Rao, a former minister and a three-time MP, has left the selection to Gandhi's discretion but exuded confidence that a backward class leader would become the first chief minister of Telangana.
While Sarvey and Rajanarasimha are aspiring to become CM under the Dalit quota, Geeta Reddy is using the same card. But Geeta's prospects to become the first woman CM could be marred because of the ongoing Central Bureau of Investigation probe into the Jagan illegal assets case in which she is an accused, the sources said.
Ponnala, though not charge-sheeted by the CBI, is also under the scanner in the same case and this may affect his chances, they felt.
D Srinivas, who served as a minister in various governments and also as AP Congress president twice, has a clean image and is in good books of the party's central leadership, which can go in his favour, the sources said.
Shabbir is playing the minority card while Naik is fancying his chances as a tribal. If Sridhar Babu fails to make it to the CM's post, he is tipped to become president of the Telangana unit of Congress, they said.
If Telangana state takes birth by January, as being anticipated, the new government will have a first term of only five months as Assembly election is due in May.
Andhra Pradesh assembly election was held along with Lok Sabha polls in May 2009.