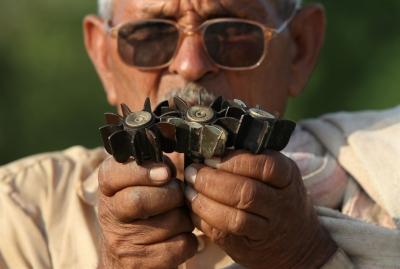 Union Health Minister Ghulam Nabi Azad Thursday advocated shifting border residents of Samba district to safer places in view of travails they had to face during the recent heavy cross-border firing and shelling.He was on an extensive visit to border areas of Samba district to assess the situation arisen due to recent firing from Pakistan.
Azad asked the district administration to explore possibilities for identification of suitable state land, about 5 km away from the International Border to accommodate the people of border areas of Samba district ensuring them a safe world to live in.
During his visit to Mawa, Suchetgarh Kullian, Chambalyal and Nanga he interacted with the people of these border areas to personally take stock of their problems and demands, an official statement said.
Expressing concern over the worst impact of Pakistan firing on the education of the students, Azad assured that all possibilities would be explored to keep some relaxation in qualification of such affected border students during recruitment drives. He added that he will take up this matter with the concerned authorities as early as possible.
The farmers projected various issues including grave hardships in day to day agriculture activities due to cross border firing and shelling from Pakistan, special recruitment drive for youth of border areas, RBA status and settlement of issues of refugees.
Strongly condemning the ceasefire violations by Pakistan, Azad said that such cowardly acts targeting innocent civilians would further ignite the tensions instead of solving the issues. He advocated a constructive dialogue between the countries for an amicable relationship, which is in interest of both the nations and their people.
Image: A villager shows mortar shells, that locals say are being fired from the Pakistan side of the international border, at a village in Samba sector

Photograph: Mukesh Gupta/Reuters