Both the Congress and the BJP are to be blamed for the commotion in Parliament on Thursday, say people from the Telangana and Seema-Andhra region. Vicky Nanjappa reports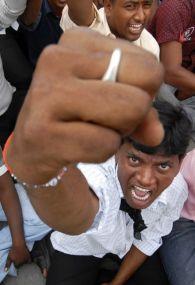 The Congress seems to be the main culprit in the Seema-Andhra region and in Telangana, the Bharatiya Janata Party is to be blamed. The Congress has been under fire ever since it announced its intention to form Telangana. Even today, during the bandh in Seema-Andhra, accusations were hurled at Congress leaders in New Delhi.
People say that it is shameful that the Congress is still trying to push the bill through. "Look at the plight of the people and they are not even discussing improving backward areas in Seema-Andhra. All they are interested is in pushing the bill through and gaining in the elections in the Telangana region," says a leader from the region.
In Telangana, the Congress is pretty much the hero and is considered to be the party doing its best to push the bill through. While there is a great deal of disgust against the MP's who created a ruckus in Parliament on Thursday, they are blaming the BJP for not doing enough.
"Home Minister Sushil Kumar Shinde has tabled the bill and we clearly heard him speak. We fail to understand why Sushma Swaraj denied the tabling of the bill," said members of the Student joint Action Committee for Telangana.
"We fail to understand why she was silent when the bill was tabled or was it a case of selective hearing," they asked.
"What the BJP is doing is not right. If there is going to be delay or the bill is not passed, there would be widespread protests. We have been told that the BJP is not keen on passing the bill as they do not want to give the Congress an advantage. For once why don't they think of the people and not politics," they add.
After much deliberation and struggle the Congress has finally managed to get the bill into Parliament and the BJP despite promising us for the past ten years could have done more to ensure that it was passed. Instead, they chose to stay mum and selective in their hearing when Shinde placed the bill in Parliament, said members of the JAC.
The people of Telangana say that they have been told by their leaders to stay patient and wait until next week. "We are assured that the bill will go through and we will not resort to any protests. But if the Bill does not go through then we will have no choice but to come out on the roads and protest," they said.