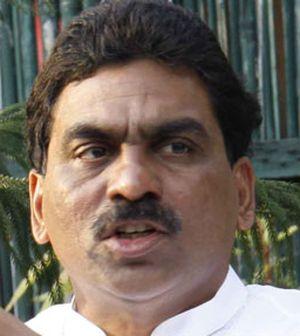 Vicky Nanjappa speaks to suspended Congress MP from Seema-Andhra, Lagadapati Rajagopal, who created a major stir on Thursday by using pepper spray inside Parliament but continues to be cheered in his constituency. The leader, however, says that the media is twisting the real facts regarding the incident, and hopes that Congress will stall the Telangana bill.
He may have been the man who shamed Parliament on Thursday by using pepper spray to stall government's bid to carve out a separate Telangana, state but back at his constituency in Vijayawada, he is the hero and the man of the moment. The ever dramatic Lagadapati Rajgopal is in the news once again.
The millionaire politician, a vocal opponent of Telangana, has earlier been arrested in 2009 for a fast he undertook after he made a dramatic late night escape from the hospital where he was forcibly taken after he refused to break his fast.
His supporters in Vijayawada were seen celebrating their leader's 'heroics' by flashing his posters on Thursday. A supporter felt "our leader has assured us that he will do his best, and without bothering about his own future he has done just what was needed".
Rajagopal, who was suspended from Parliament earlier on Thursday for his pepper spray act, however remains unfazed.
"My first job was to ensure that the people of Seema-Andhra were taken care of. I did not get into Parliament with an intention of throwing pepper spray on my fellow MPs. I wanted to debate the issue and also raise a protest. I was aware that I would be attacked, and hence the spray was carried only for self defence", Rajgopal tells Rediff.com in a brief interaction.
"What you have seen today in the media is a twisted version of what actually happened. The fact that the pepper spray was used as an act of self defence has become a major issue. What about those who tried pouncing on me? They were ready to pounce on anyone who opposed the Telangana bill. I always carry a can of pepper spray with me for self defence and it is not a lethal weapon," he says.
"Yes they have suspended me from the Parliament, but I can raise my voice anywhere. The issue now is not about a new party or the future course of action on our political careers. It is about Telangana and what should be done to stall it. I am still confident that better sense will prevail over the Congress and they will not go through with the bill," he notes.
"About me being a hero in Vijayawada today, that is not the matter here again. It is the love of the people who have so much trust in me. I know the pain in them when they speak of a bifurcation. It is hard to separate from your brothers and sisters. I have to work for the people and my political future does not matter," he adds.
On asked whether the entire incident was being stage managed, Rajagopal says that it is not right to say that.
"We have acted on our own and out of concern. The Congress clearly is not concerned about this".
On the allegation that he is staging these protests only to protect his large business interests in Hyderabad, he says that that is narrow thinking.
"I do not agree with what you are saying," he reacts.
Rajagopal's critics have alleged that his opposition to the division of Andhra Pradesh has been linked to his personal business interests; he is believed to have massive investments in Hyderabad and parts of Telangana. The MP, however, starkly denies the charges.
In Vijayawada, the people are happy with the manner in which their MP has conducted himself today in Parliament. "I am sure that he will be able to stall the formation of Telangana", says S Balram, a local Congress worker.
"The people have told us to thank him for what he has done for us," he adds.
Salient facts about Lagadapati Rajagopal:
He is the one of the richest MPs in the country; is worth around Rs 300 crore as per his election affidavit.
He is a mechanical engineer.
He is considered to be the face of the United Andhra Pradesh moment which he started in 2009. He sat for a week fasting in protest. He was arrested and taken to hospital, but the ever dramatic leader staged a late night escape from hospital.
He was the first Andhra Pradesh MP to send in his resignation as soon as the Centre announced its plans to carve out Telangana in 2009.
He is married to the daughter of Congress leader P Upendra.
He was working with a private company until 2002 and then quit to join politics.
He won his first election from Vijayawada in 2004 and then again in 2009.