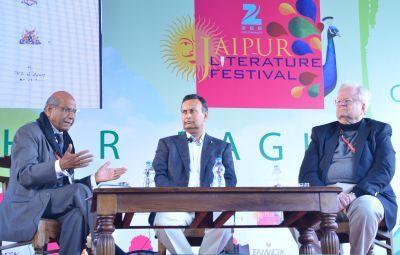 The Devyani Khobragade row, India-Pakistan bickering over Afghanistan and a nightclub act by two diplomats were some of the issues discussed at one of the sessions at Jaipur Lit Fest, reports Sanchari Bhattacharya.
Former Pakistani envoy Husain Haqqani won over quite a few Indian fans at the Jaipur Literature Festival on Saturday when -- while talking about the ever-turbulent ties between the two neighbouring nations -- he declared, "The elimination of India, as advocated by (Lashkar-e-Tayiba founder) Hafiz Saeed, will not solve the problems of Pakistan".
Participating in a panel discussion with former foreign secretary Shyam Saran and former American envoy to India Robert Blackwill, Haqqani made all the right noises and played to the gallery.
"Someone like Malala Yusufzai will give us our future. Someone like Hafiz Saeed can only give us destruction," he said, to much applause.
"A nation of 180 million cannot be run by extremists. They cannot be born and raised on the hatred of India. That is not good for the Pakistani State. But making Pakistan insecure (by India's rhetoric) is not the solution," said Haqqani.
When he was asked if there was any chance of India and Pakistan ever coming together in spite of their differences, like East Germany and West Germany eventually did, Haqqani said, "India, Pakistan share much more than what they differ over."
He also sounded a cautionary note about the impending situation in Afghanistan after the pullout of United States troops by the end of 2014.
"We should be wary about the renewal of civil violence in Afghanistan. Any country should be resisted from falling into such a cycle of violence. All nations in South Asia should remember that," said Haqqani.
"Yes, and I would like to be rich and handsome. Pakistan keeping the ISI (Inter Services Intelligence) away from Afghanistan has as much chance," was the rejoinder from Blackwill, as he openly expressed his scepticism about Islamabad's agenda for its immediate neighbour.
Withdrawal of American troops from Afghanistan, said the former George W Bush administration official, "was an open invitation to the Taliban, the jihadis, the ISI and such like".
Unfazed, Haqqani replied, "That's why we make such a good team, you can say the things I want to but I can't".
"Yes, we are developing a night club act. We will tour India with it," said Blackwill as most audience members burst out laughing.
On a more serious note, he also addressed the recent nosedive in ties between India and the US over the Devyani Khobragade episode.
"Operationally, the Indian diplomat should never have been arrested. But she did commit a crime according to the American legal system. Then again, the US administration wouldn't want any of its diplomats to come before the jury of another country," he said cautiously.
The Indian government, said the former diplomat, should have realised that trouble was brewing and reassigned Khobragade.
Blackwill also admitted that he was "incautiously optimistic about the Pakistan that was emerging".
"I don't think either India or Pakistan know how to handle the new Pakistan. I believe (the situation in) Pakistan will get worse the next year and then worse the year after that," said the diplomat-turned-lobbyist.
Image: Husain Haqqani, Shyam Saran and Robert Blackwill at the Jaipur Lit Fest on Saturday