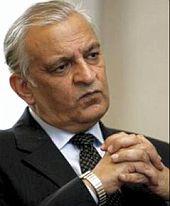 India and Pakistan made "considerable progress" on resolving the Kashmir issue between 2004 and 2007 and considered several options, including demilitarisation and granting autonomy to the area, Pakistan's former army chief said on Wednesday.
"The two sides showed flexibility as well as reciprocity in the back channel talks on the issue," former Pakistan army chief Gen Jehangir Karamat told PTI.
The back-channel diplomacy was encouraged by the previous regime of President Pervez Musharraf and the government headed by Manmohan Singh and this was what former Pakistan foreign minister Khursheed Mahmood Kasuri referred to, he said.
Though Musharraf and Kasuri have claimed in the past that the two countries were on the verge of a breakthrough in resolving Kashmir and other issues, this is for the first time that another personality in the establishment of that time has made such a claim.
Karamat was Pakistan's ambassador to the US between 2004 and 2006.
Karamat, a supporter of rapprochement between India and Pakistan who was not involved in these back-channel parleys, said, "The two sides considered several options and steps like demilitarising the area, easing the movement across Line of Control and granting autonomy
to the Kashmir Valley."
These steps, he said, were contemplated to be put in place for a "longish period of time" and then the two sides would have reviewed its results.
Gen Karamat, who headed Pakistan's powerful army during 1996-98 and was succeeded by Pervez Musharraf, said: "This back-channel diplomacy was making a lot of progress."
But he was unsure whether there was any proposal to revive such initiatives. When asked whether demilitarisation of Kashmir was agreed on, he said: "I think so".
He refused to elaborate.
The former army chief said: "the back-channel talks between the two countries were not under any pressure." Gen Karamat, who resigned from the post of army chief following differences with the then Nawaz Sharif government, said: "There is no other option for India and Pakistan except to talk to each other on every possible issue and subject."
He commended Prime Minister Manmohan Singh and his Pakistani counterpart Yosuf Raza Gilani for resuming the stalled talks.
"Both Dr Singh and Gilani need to be commended for taking this step," he said, referring to the talks between the two leaders in Bhutanese capital Thimphu. "Since the talks are back on track it could again go to pre-Mumbai level," he said, referring to the 26/11 terror attacks which halted the talks between the two nations.