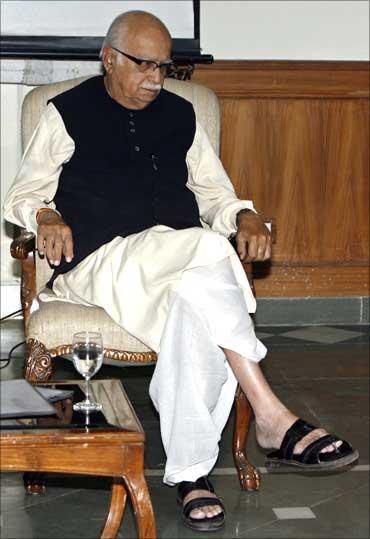 Bharatiya Janata Party patriarch L K Advani on Tuesday said he has lived his life according to the "diktats" of his inner voice and indicated that his age notwithstanding, he is in good health and not about to hang his boots.
Led by RSS chief Mohan Bhagwat, top brass of the Sangh founthead and BJP had gathered at a function to launch compilations of Advani's blogs in book form in New Delhi.
Bhagwat praised Advani for his principled politics and said he practices what he preaches and alluded that as long as the senior leader is around to guide the party it will remain free from corrupt practices.
Speaking at the book launch, Advani said, "I have worked as per my conscience, my inner voice even though at times I have had to hear criticism from my opponents as well as from my own people."
Citing examples, he said after his first rath yatra -- on the Ram temple at Ayodhya issue -- he was labelled a fanatic Hindu.
"After my visit to Pakistan (where he made the pro-Jinnah remarks), it was said that I have compromised with my ideology. But I have always worked according to the diktats of my inner voice," he said.
The 86-year-old also emphasised that age is not determined by the number of years one has lived but by one's health and the manner one has lived life. He gave credit to his clean conscience and frugal eating habits for his health.

Quoting Vinoba Bhave, Advani said, "I believe a man becomes old when he starts believing that he cannot learn anything new."
"It is not the years in your life, as much as the life in your years," he added.
Noting that one should endeavour to find happiness as well as meaning in life, Advani said he has had the good fortune of experiencing both in abundance.
Bhagwat praised Advani for practicing what he preached through his writings. Using a story as a metaphor, he said as long as Advani is in politics there will be no sin in the party.

"That national interest is paramount for him is reflected clearly and with credibility in the writings of Advani," Bhagwat said.
Expressing his respect for Advani and insisting that his way of living should be an inspiration for others looking for meaning and happiness in life, he said, "I may be the Sarsanghchalak but Advani is way senior to me."

The RSS chief pointed out that living a principled life is not easy as there are allurements on the way.
"His life's convictions are reflected in his writings," Bhagwat said, adding that with people like Advani five years can be enough to bring about a change in the country.
Leader of the Opposition in Lok Sabha Sushma Swaraj praised Advani for his guidance to the party and its leaders.
"Sometimes Advani slams us in his blog. Then people pull us saying he has slammed you. But he has every right to do so. After the loss in Karnataka elections he wrote about the lessons the party has learnt from it," she said.

She underlined that Advani's scoldings are more of a lesson for her and others.
"He has a right to reprimand us. We take it as a blessing," she said.
Bhagwat seconded this saying, Advani "scolds not due to anger but out of concern".
While Swaraj heaped praise on Advani, he became emotional and was seen wiping his tears.

Later Advani gave a compliment to Swaraj for her oratorical skills and said he often tells her that she gives him the same complex that Atal Bihari Vajpayee used to give with his speeches.