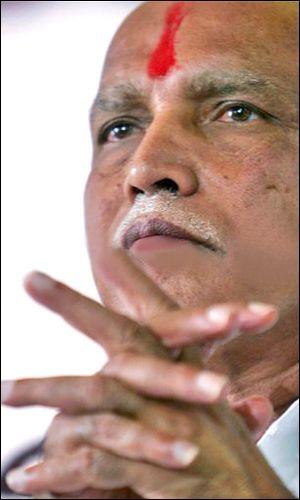 The issue concerning former Karnataka Chief Minister B S Yeddyurappa will drag on for a few more days, with the Bharatiya Janata Party postponing all meetings which would now be held after Deepavali, says Vicky Nanjappa
BJP's national general secretary and party in-charge of Karnataka Dharmendra Pradhan, who was to attend a party meet on Wednesday, has now put off his visit. He was to be in Bengaluru on Tuesday night and was to hold discussions with party leaders and B S Yeddyurappa.
Meanwhile, Yeddyurappa's lunch and meeting with BJP leaders drew a considerable crowd. In all there were 65 leaders which included 45 members of the legislative assembly, 9 members of Parliament and 11 members of the legislative council.
Although Yeddyurappa claimed that the meeting was an informal one, it only discussed the future of his new party, the Karnataka Janata Party, to be floated on December 10. 
The meeting also saw requests being made to Yeddyurappa to stay on in the party. At least 40 leaders urged him to reconsider his decision and said that they should bear in mind the interests of the BJP. Yeddyurappa was however firm on his decision and said it was too late to change his mind. 
The meeting also discussed the future strategy of the KJP. He told his supporters to chalk out a plan, and think seriously about the new party.
"I am not forcing anyone to join me. You decide by yourself and take a decision. I however request you not to destabilise the government in the interest of the people of Karnataka. I will launch the party on December 10 after a special sitting on December 9. You people complete your term and then decide on joining me," Yeddyurappa said at the meeting.
Many were apprehensive about a new party and said that history is witness that regional outfits do not work in Karnataka. Yeddyurappa assured them that they will need to work hard and provide an alternative in Karnataka.
"We will take a secular approach and be progressive," he added.
Meanwhile, the BJP has decided to hold it out a while more and will hold talks only after Deepavali. The party has however decided to take a more defensive approach and decide first on how to go about the future without Yeddyurappa.
After this, they would make one last attempt to convince Yeddyurappa.