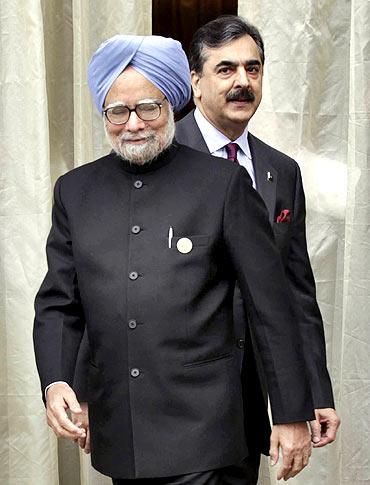 The anticipation and excitement around the World Cup semi-final, when India and Pakistan confront each other in Mohali on Wednesday, is reaching fever pitch in both nations.
But a side-show may just steal the thunder from the folks on the pitch -- an 'informal' meeting between Prime Minister Manmohan Singh and his Pakistani counterpart Yusuf Raza Gilani, who will both watch the match in Mohali.
While the government insists that Dr Singh's diplomatic clean sweep of inviting Gilani has no underlying agenda, nobody is buying this sales pitch.
The heads of government of the two nuclear-armed, acrimonious neighbours will reportedly hold a bilateral meeting after the game, regardless of who makes it to the World Cup final in Mumbai, the scene of the horrific 26/11 attacks, launched by murderers from Pakistan.
Of the many unresolved issues between the two nations, which ones do YOU think Dr Singh should bring up with Gilani?
Terrorism on Pakistan's soil? Extradition of India's most wanted terrorists? The directionless 26/11 probe?
Dear readers, please help the prime minister figure out how to mix business with cricket.
Kindly suggest five things the good doctor should tell Yusuf Raza Gilani.
Share your thoughts on the Rediff message board!
Photograph: Reuters