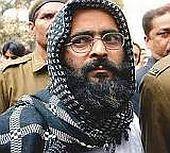 The Bharatiya Janata Party on Thursday questioned the delay in the execution of Mohammed Afzal Guru as the nation observes the 11th anniversary of the 2001 Parliament House terrorist attack.
Senior BJP leader Sushma Swaraj, who paid her respects to the martyrs, said: "Every year we come and take part in this ceremony to pay tribute to those martyrs who fought to save our lives."


"The question being that the attacker to whom Supreme Court has also given death sentence, his execution is taking time. We want to ask why is that happening," she added.
BJP spokesperson Shahnawaz Hussain said: "Every year we remember martyrs of the Parliament attack but the greatest tribute to them would be to carry out the execution. We demand that Afzal should be hanged at the earliest. This attack was not on Parliament but on India."
"If Mumbai terror attacker was hanged then why is Afzal guru being saved? Due to what reasons is the government delaying his death sentence? They should give an answer," he added.


Meanwhile, the main opposition party has given a notice for the suspension of Question Hour in the Lok Sabha on Thursday.


Mohammed Afzal Guru, who was held guilty in the case, was awarded the death sentence by a Delhi court on December 18, 2002, after being convicted of conspiracy to attack Parliament on December 13, 2001, waging war against the country and murder.


The Delhi high court upheld the death sentence on October 29, 2003 and his appeal was further rejected by the Supreme Court two years later. Following this, Afzal filed a mercy petition with the President, who forwarded it to Union home ministry for its comments