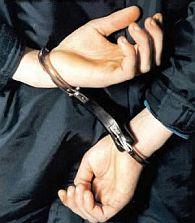 The arrest of alleged Lashkar-e-Tayiba sympathiser Dr Imran Ahmed alias Immu Bhai on Friday has breathed new life into the investigation into the plot to assassinate Hindu leaders in Bangalore.

But there's something about Dr Imran that has reportedly caught the attention of the National Investigation agency

The agency claims that he is related to Kafeel Ahmed, one of two terrorists behind the 2007 Glasgow International Airport attack in the United Kingdom. Dr Imran is married to Kafeel's sister, who resides in Bangalore.

Kafeel succumbed to burn injuries he received while trying to ram an explosive-laden jeep into the Glasgow airport.
NIA sources say that they are examining a pen drive that was seized from Dr Imran, who was in Bangalore to meet his family on a fake passport.

A NIA official told rediff.com, "It is not clear if he is part of the Lashkar-e-Tayiba, but we realised during the investigation that they subscribe to the views of the banned Pakistan-based outfit."

"Many of those involved in this plot travelled to Pakistan via Iran and obtained training, Dr Imran's role at the moment appears to be restricted to providing shelter, but we are trying to find out if there is more to it."

The plot to kill Hindu leaders at Bangalore, Hubli, Hyderabad and Nanded was unveiled last year following the arrest of 16 persons. The case, however, ran into rough weather when the NIA closed the case against four persons, including a journalist and a Defence Research and Development Organisation scientist, after no evidence was found.

The accusation against Dr Imran is that he had provided shelter to one Mohammed Akram, who had travelled to Saudi Arabia in 2011 to allegedly plot the assassinations.

During this meeting they had decided to kill Hindu leaders and also some journalists who were writing pro-Hindu articles.

However, the bigger worry for the NIA is that mastermind Zakir Ustaad is still at large. He is believed to be holed up in Saudi Arabia.

Ustaad, according the investigators, travelled several times to Bangalore and Hyderabad to oversee the preparations. However, he managed to give the slip once the case broke out in the open.

Ustaad is alleged to have created a liaison between operatives in India and the Gulf in order to carry out the assassinations