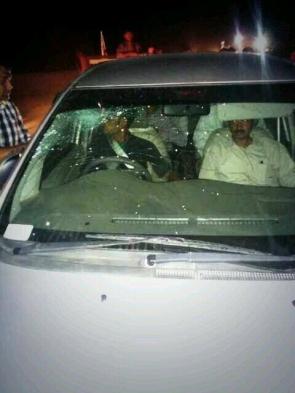 The Kutch police lodged a case of rioting against a mob of 40 to 50 men, who allegedly stopped the convoy of Aam Aadmi Party leader Arvind Kejriwal on Wednesday and attacked his car.
The incident took place at Kharohi village in the Bhachau taluka of Kutch. Later, a local crime branch Sub Inspector J P Solanki lodged an official complaint of rioting and damaging private property against the mob.
In his complaint at the Bhachau police station on Thursday, Solanki alleged that 40 to 50 unidentified men gathered at Kharohi cross roads to accomplish their motive and shouted slogans.
Later, one of them attacked the car and broke the windshield using some object. However, the complaint does not mention any names, neither of the BJP nor of Kejriwal.
The AAP leader and his team members are on a 'fact finding tour' of development in Gujarat from Wednesday. During his journey from Ahmedabad to Kutch, Kejriwal faced protests at regular intervals, allegedly from BJP workers and other groups.
When his convoy reached Kharohi village, some alleged BJP workers were protesting with black flags, AAP Gujarat convenor Sukhdev Patel said.
"With the sticks of black flags they attacked the car of Kejriwal when he had gone there to look at the problem caused to the people due to breach in Narmada canal in the area," Patel had said on Wednesday.
In the wake of attack on Kejriwal's car in Bhachau on Wednesday, the Kutch police have beefed up his security.
"I have asked all the police stations in my jurisdiction to stay alert and give him protection. For the security of his convoy, we have deployed two police vehicles," Superintendent of Police Kutch East Dipak Meghani said.
However, Kejriwal's "secretive" attitude is making police's job difficult, Meghani said.
"We want to give him better protection, but, he never reveals where he is heading. Thus, the local police cannot be informed well in advance. Since the model code of conduct is implemented, we cannot provide a front running escort car. But, Kejriwal is taking advantage of that situation," the SP added.

Image: Arvin Kejriwal's car was attacked during his visit to Gujarat on Wednesday