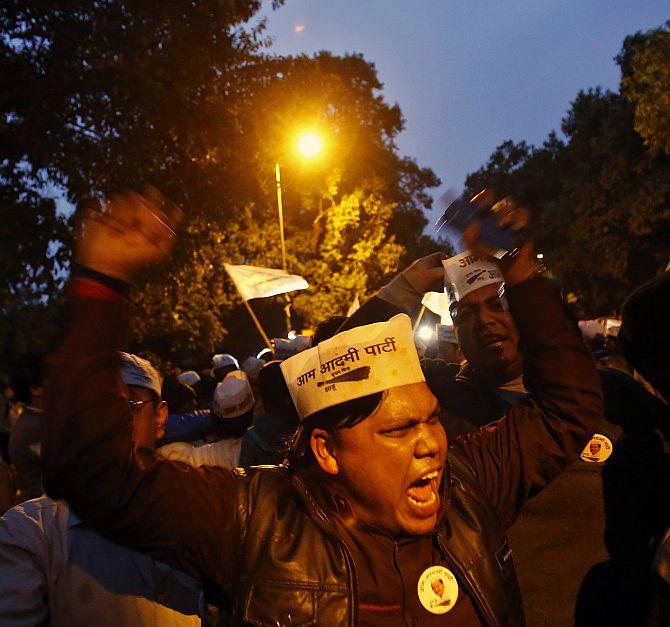 Aam Aadmi Party leaders Ashutosh and Shazia Ilmi, booked for rioting and damaging public property during clashes with Bharatiya Janata Party workers, have been brought for questioning by the Delhi police.
Ilmi, who was picked up by a team of women police personnel from her Greater Kailash residence, was brought to Parliament Street Police station for questioning, police said.
Journalist-turned politician Ashutosh, picked up from AAP's ModelTown office, is on his way to the Parliament Street police station.
AAP leader and former Delhi Law Minister Somnath Bharti has also reached the police station. A first information report was lodged last night at Parliament Street police station against Ilmi and Ashutosh and other AAP volunteers in connection with clashes outside BJP headquarters.
Photos: 'Anarchist' Aadmi Protest on Delhi's streets
The police had initially detained 33 people out of which 14 were arrested late last night while others were allowed to go. A local court granted bail to those 14 AAP volunteers on Thursday afternoon.
"All those identifiable and present at the protest site have been named in the FIR," a senior Delhi police official said.
Around 28 people, including 13 AAP activists and 10 BJP supporters, were injured in the clashes, the police said.
Ilmi accused the Delhi police of targeting the AAP and wondered why no action was being taken against BJP activists.
"On Wednesday, we got to see the discrimination of Delhi police, which joined the BJP to disperse AAP supporters staging silent protest. The police could not see bricks, stones and chairs being thrown from the inside of BJP headquarter... They could only see people much later retaliating. The police were protecting BJP supporters," Ilmi claimed.
The police have termed the AAP protest as completely illegal as no prior permission was sought by the party. Ashutosh also accused the Delhi police of bias against AAP workers.
Lathi vs jhadu: BJP activists beat up AAP workers in Lucknow
"AAP supporters were injured in the clash. BJP leaders beat up our supporters. Delhi Police takes action when flower pots at the BJP office were damaged but they didn't take action when our supporters were injured," he claimed.
The police said they have got the entire sequence of events videographed. Senior officials said more arrests are likely in the case.
Image: AAP supporters shout slogans outside the BJP headquarters in New Delhi
Photograph: Anindito Mukherjee/Reuters