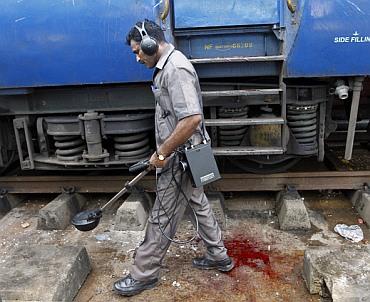 'We have given the authorities our bank details; hope they give us something since we won't be able to work for some time.' A Ganesh Nadar/Rediff.com speaks to passengers injured in the terrors blasts on the Bangalore-Guwahati Express.
On May Day 2014, a young woman was killed and 14 others injured when two bombs exploded on the Bangalore-Guwahati Express as it was rolling into the Chennai Central railway station.
I find nine of the victims in the same ward at the Rajiv Gandhi Hospital and Medical College, which is located opposite the blast site. Three of the victims are in intensive care, one floor above the others.
Eight of the nine victims, who work as construction workers, are from the Cooch Behar district in West Bengal. None of them has completed schooling and all of them are below 30 years of age.
One of them is a boy of 17. His leg is swollen and he says he cannot hear properly. The nurse says it could be trauma as he had been tested and his hearing is normal.
One of his relatives says the boy was on his way back home because he had been informed that his father was not well. He had a wait-listed ticket, but boarded the ill-fated compartment because his friend had a confirmed ticket.
What no one has told him yet is that his father is no more.
"We don't want to add trauma to the already terrified boy," says the lone relative who is looking after the injured.
On the next bed is a 21 year old, with both his legs in casts. He says he has been working in Bangalore for the last three years and that he goes home once in six months. Next to him is a boy also with leg injuries, and complains that he cannot hear out of one ear. He does not understand English or Tamil which the doctor understands, and I am asked to translate for him.
He seems happy that someone can speak Hindi and says that on his arrival, his wallet and cell phone were taken away. He says he has got his mobile back, but not his wallet.
The nurse in charge assures him that the wallet is safe in a locker and will be returned when he is discharged. "Someone might take it while he is sleeping, it is safer with us," she says.
The nurses speak Tamil and English and a smattering of Hindi. Looking after patients who only speak Bengali is challenging, but they do it with a smile.
The relative tries to reassure the boy that since they are all from the same district, his wallet will be safe. But he demands it back.
Finally, a nurse brings the wallet in a sealed cover with a thoroughly itemised list -- Five Rs 500 notes, Thirteen Rs 100 notes, One Rs 50 note, two Rs 20 notes, one Rs 2 coin, four Re 1 coins, two identity cards, a pocket diary, and one black wallet.
She asks him to count the money and checks the ID card before asking him to sign for his belongings.
He gives the nurse a broad smile. She responds with a broader grin.
One of the patients complains they are being shifted to another hospital and wants to know why. Another victim says they have received Rs 5,000 in cash and it is not enough.
The Tamil Nadu government has announced Rs 100,000 for the deceased girl's family, Rs 50,000 for those with serious injuries, and Rs 25,000 for those with minor injuries.
He wants to know if the compensation due to them would be given to them before they leave or would it be sent to them. "We have given the authorities our bank details; hope they give us something since we won't be able to work for some time," he says.
"We didn't see anyone planting the bomb," says one victim. "We were all excited to go home and not paying attention to what the other passengers were doing. The girl who died was sitting right where the bomb was planted. We were just nearby."