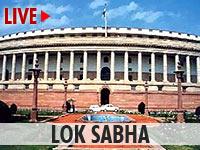 The Opposition is all set to corner the government in Parliament which resumes on Monday after a recess with BJP and other parties deciding to raise the "deliberate leak" of the JPC draft report on the 2G scam and the reported vetting by the Law Ministry of the CBI report on coalgate.
A political storm has already broken out with an agitated opposition alleging that the report on 2G is a "cover up" and has been prepared to give a clean chit to Prime Minister Manmohan Singh and Finance Minister P Chidambaram.
The Opposition has been maintaining that the "deliberate leak" amounted to breach of parliamentary privilege and is seeking a probe into it.
NDA is angry over the draft JPC report on 2G scam, particularly the references to the former prime minister Atal Bihari Vajpayee, and some other ministers in his government.
This might come in the way of passage of some key bills that UPA is hoping to push through during the remaining part of the session which is scheduled to end on May 10.