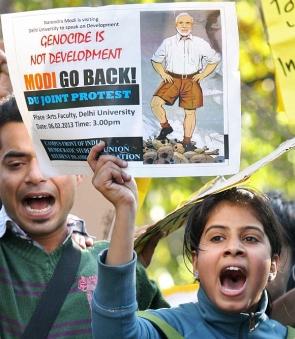 A Magistrate court in Ahmedabad is likely to pronounce on Thursday its order on Zakia Jafri's petition -- against the closure report of the Special Investigation Team -- which had probed the Bharatiya Janata Party's prime ministerial candidate Narendra Modi's role in the post-Godhra riots in 2002.
The SIT had given a clean chit to the Gujarat chief minister and 58 others in connection with the Gulbarg Society massacre case.
Jafri's husband and former Congress Member of Parliament Ehsan Jafri was among the 69 people killed in the massacre in Ahmedabad during the riots.
Magistrate B J Ganatra had earlier said he would deliver the order on October 28, but it was deferred to December 2 and then to December 26.
Arguments got over in September 2013.
Jafri has repeatedly contended that Modi and others should be tried for their role in the conspiracy which facilitated the state-wide violence.
The SIT, which was appointed by the Supreme Court, had probed Jafri's allegations against Modi and others.
In its final report -- filed on February 8, 2012 -- it said there wasn't sufficient evidence to prosecute them.
SIT counsel R S Jamuar argued before the court that no direct or circumstantial evidence supporting Jafri's allegations was found, while Jafri's lawyers argued that SIT ignored the relevant evidence and shielded the main culprits.
Image: A protest against Gujarat CM Narendra Modi over his alleged role in the 2002 riots ' Photograph: Reuters