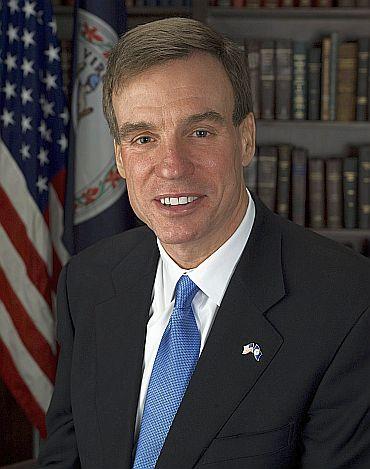 US Senator Mark Warner, the new Democratic co-chair of the US Senate India Caucus, has pledged to grow the US-India partnership even further in his new role and promote joint innovation so that both countries could mutually benefit.

Warner was honoured at the fund-raising Washington, DC gala of the American Indian Foundation lauded the AIF's Digital Equaliser Programme -- a computer aided learning programme that aims to bridge the education and digital divide in India by preparing thousands of children to compete in the digital economy.

The former Governor of Virginia recalled his visit to India in 2005 as head of a trade delegation where he had visited another NGO doing similar work like AIF in promoting computer literacy in the villages in India.

He spoke of how amazed he was by many of these children, who didn't even go to school, but without any formal teaching or training had picked up how to use the tools that a computer helps them with in terms of learning.

Warner also reminisced to peals of laughter how "a young boy called Samir came up to me and asked for my name. And, when I said, 'Why do you want to know my name,' he said, 'I want to google you and see if you are an important person.'"

He said what was imperative now was "how we strengthen this emerging partnership between the two most powerful democracies in the world," for the betterment of both societies, particularly the younger generation.

In this regard, Warner said, that while he didn't want to inject any partisan politics to the evening, it was important to note that it was President Obama (a Democrat) who recognised the global gravitas of India and the role it had to play in the world by endorsing this leadership role in his endorsement of India's candidacy for a permanent seat in the United Nations Security Council.

The lawmaker said while programs like the Digital Equaliser programme of AIF was yet another manifestation of how Indian Americans were transferring "learning and development back to India," it was important "now that we all need to work together and that this partnership needs to go both ways."

"There is so much that this country can learn from India in terms of this generation -- the spirit of growth, the way to get things done," Warner said, and acknowledged that it was in stark contrast to 20 years ago "when the rest of the world had to wait for the United States to get its act together," but now countries like India were "charging forward."

He exhorted joint innovation to propel growth in both countries and said "part of that will come through increased trade and cultural ties and increased cooperation between our two nations."

"So, I pledge to you tonight that in my role as the new head of the US-India Caucus, to continue that partnership and make sure that the stories you heard tonight take place both in India and the United States," he said.