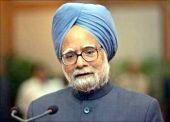 Ruling out early elections, Prime Minister Manmohan Singh said on Sunday that expansion of his Council of Ministers would probably be the last.
"I don't see early elections. Elections will be held in due course," he told reporters at the Rashtrapati Bhawan after the swearing-in ceremony.
Asked whether this would be the last reshuffle, he said: "Hopefully, probably this is the last reshuffle."
On Congress general secretary Rahul Gandhi, the prime minister said he always wanted him in the government but he has pre-occupations. "He wants to strengthen the party," he said.
Asked what was the message from Sunday's exercise, he said it is a combination of youth, experience and relevance of portfolios.
On being asked what the road ahead is, the prime minister replied that the road ahead is full of challenges.
To a question about the proposal to move some people from government to party, he said: "The party also needs men and women of experience to strengthen it. They will be equally productive in the party."