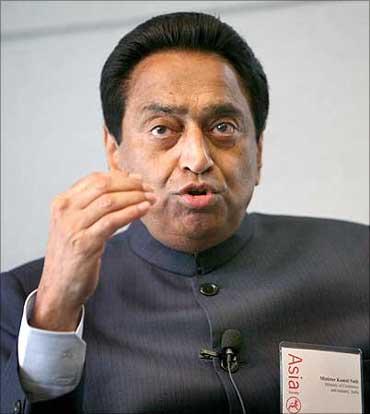 Asserting that there is no compulsion for implementing FDI in retail and states are free to decide on it, Parliamentary Affairs Minister Kamal Nath on Wednesday urged all political parties to vote against the Bharatiya Janata Party.
"The issue of FDI is decided in the states. When Parliament cannot decide the applicability of FDI in states then what is left? It is only the politics of the BJP. So I am urging and appealing to all political parties to vote against them to condemn the politics of the BJP and that will be demonstrated in the voting results," said Nath.
"When Sushmaji wants to convince us or defeat us, she will be defeated on Wednesday," he added, when asked to comment on Leader of Opposition in Lok Sabha Sushma Swaraj's statement during the FDI debate that the BJP did not want the government to be defeated, but wanted to convince it to rollback its decision of FDI in the retail sector.
Meanwhile, Information and Broadcasting Minister Manish Tewari on Wednesday said Swaraj's statement towards the end of her debate on FDI in multi-brand retail has exposed the BJP's floor strategy on this discussion.
"I think that became very clear towards the end of the leader of opposition's debate. When she conceded that the entire intent of seeking a 184 was to try and persuade the government and not defeat the government. So, if the intent was to persuade then why a 184? The persuasion could have been done under 193 also," said Tewari.
Swaraj, who initiated the debate on FDI in retail in the Lok Sabha on Tuesday, had said that the Congress-led United Progressive Alliance government's claim that foreign investment would benefit farmers, consumers and generate employment was a myth.