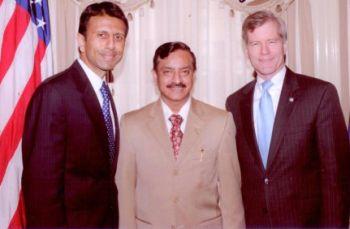 Virginia's Republican Governor-elect Bob McDonnell has appointed his close friend and long-time fundraiser Dr Kamlesh Dave to his transition team for economic development.
Dave, a cardiologist practicing in Chester, Virginia, a suburb of the state capital of Richmond, is the first Indian American to be inducted into the governor-elect's inner circle of advisers.
Born and raised in Ahmedabad, Dave is a leading community and social activist who admits he is a novice at politics. This, although Virginia Republicans have unanimously elected him president of the new Republican Indian Committee, a political action committee.
He told India Abroad that McDonnell has asked him to concentrate on real estate and construction as a member of the transition team and help in his administration's financial planning.
McDonnell got the job after the Democrats held sway for two terms and Barack Obama turned this red state blue in the 2008 presidential election.
"It was a bit of a learning curve -- getting a grip on all of the state regulations and all that -- from conservation issues to environmental issues, but now I am getting the hang of it," Dave said.
He has known McDonnell for over a decade, from the time he was chair of the Court and Justice Committee as an elected delegate from Virginia Beach in the Virginia legislature. When McDonnell filed his paperwork to run for governor, "My wife got him to remove his shoes and come to our pooja room. He did about 30 minutes of Ganesh pooja with traditional Sanskrit shlokas (hymns) and all the other rituals," Dave said.
McDonnell is quite familiar with the Indian-American community and had attended a few events at the Indian Community Center in Richmond, including India's Republic Day celebrations.
Dave said McDonnell's priorities are in sync with the fiscal conservatism of Indian Americans, and that he hopes to solve unemployment by creating as many jobs in Virginia as possible and by supporting entrepreneurship, particularly local business leaders and small business.
He said McDonnell has expressed a desire to establish Virginia trade and commerce offices in India and China because he understands the value of integrating these growing economies with the economy of Virginia.
Dave said McDonnell has been receptive to suggestions that two offices be established in India -- one in Mumbai and one either in Ahmedabad or Gandhinagar -- and that he should lead a Virginia trade delegation to India.
Dave said he would also ask McDonnell to appoint qualified Indian Americans to his cabinet as had his Democratic predecessor Governor Tim Kaine.
Kaine had appointed the likes of Aneesh Chopra and Vivek Kundra as his chief technology officer and assistant secretary of commerce respectively. Both now serve in the Obama administration.
Dave said he would not accept a cabinet appointment, even if offered one.
 "I have a full-time job as a practicing cardiologist and if I took a full-time position in the government, that (the state government salary) will not cover my mortgage," he said.
However, Dave expressed confidence that he is likely to be appointed to the powerful Virginia Medical Licensing Board when a seat becomes available next year, after the term of an appointee of former Virginia governor Mark Warner expires.
He recalled, "When I moved to the Richmond area over 17 years ago, I was the only Republican in the (2,500 to 3,000-strong) Indian-American community."
But now 60 percent of them have joined him.
A few years ago, Dave and a couple of his Indian-American friends donated a six-acre plot of land in Richmond for a 20,000-square-foot Indian Community and Cultural Center.
Dave migrated to the US in 1980 and did his internship and residency at Cornell University in New York and lived and worked in Manhattan and parts of New Jersey for several years.
After moving to Richmond, he has served as chief of medicine and chief of staff at South Side Regional Medical Center. He now serves as a board member of the State Health Research Board of Virginia.
Until last year, he was the HRB's vice chairman. He has also served as a board member of the Workmen Compensation Medical Board of Virginia.
Friends said Dave's philanthropy and his commitment to providing free medical care, particularly to visiting immigrants and those with no insurance, is legendary. He has reportedly provided free cardiac care for several visitors from the subcontinent with no insurance, and even boarded and lodged them at his own home.
One of his friends said that after the earthquake in Gujarat in 2001, Dave closed his practice in Richmond and served in Kutch, starting a Gujarat Earthquake Relief Trust Fund there and getting many people here to support relief efforts.
Although he has not been very active in politics, only supporting friends like McDonnell and other Republican candidates with fundraisers, he was an elected delegate from the fourth Congressional District to the Republican National Convention in 2008 in Minneapolis, Minnesota.
Dave is also a director on the board of a local bank, First Capital Bank, Virginia, which is traded on NASDAQ and has served as a board member of the America Land Fund.
Image: (From left) Louisiana Governor Bobby Jindal, Dr Kamlesh Dave and Bob McDonnell in an undated picture