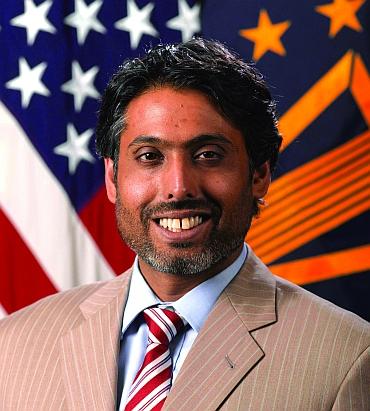 Highest-ranking Indian American official in the pentagon quits to join Centre for American progress, which is headed by another Indian American
Vikram J Singh, the highest-ranking Indian American at the Pentagon is quitting his administration job to head up the national security division at the Centre for American Progess -- a Washington, DC progressive think tank with close links to President Obama -- which has at its helm another Indian American, Neera Tanden.
Singh, currently the deputy assistant secretary of defense for South and Southeast Asia, will leave the Pentagon in March to be the new vice president for national security and international policy at the CAP.
Tanden told rediff.com, "As CAP builds its Asia Program, Vikram's experiences on a range of issues in the region in both the diplomatic and military dimension will be invaluable."
She acknowledged, "Of course, his work on India, the military relationship between our two countries, and the array of issues we are confronting will add depth to the CAP's program."
"We are fortunate to have such an incredible talent leading our team," Tanden added.
She said that although Singh would oversee CAP's work on national security around the globe, he would continue his focus on Asia, a region he had worked in and on for decades, including as a key aide to the late Richard Holbrooke, US special representative for Afghanistan and Pakistan, before joining the Pentagon in 2011.
Earlier in a press statement released by the CAP, Tanden said, "We're thrilled to have Singh lead our national security and international policy team."
"Vikram is a leading foreign policy thinker of his generation and has tackled the country's greatest foreign policy challenges during his time at the state department and the Pentagon," she said, and predicted, "As we continue to shape a pragmatic foreign policy strategy over the next decade, Vikram's insights, sharp strategic mind, and experience will guide our work."
Rudy deLeon, who currently runs CAP's National Security and International Policy team, will continue to work with the Centre for American Progress as a senior fellow, she said.
Another former senior Indian American administration official, Rahul 'Richard' Verma, who served as assistant secretary of state for legislative affairs, also serves as a senior fellow at the CAP, chairing most of its South Asia sessions.
Before his current appointment at the Pentagon, Singh was the deputy special representative for Afghanistan and Pakistan at the department of state. He has also served in the department of defense as a senior advisor, representing the department in National Security Council policy reviews of Pakistan and the war in Afghanistan and later leading the development of the department's post-2014 strategic approach to South and Central Asia.
Prior to his most recent assignments at the Pentagon, Singh served in the department of defense from 2003 through 2007 on a number of defense policy issues, including programs to train and equip foreign military forces, US military counterinsurgency and irregular warfare capabilities, stability operations, disaster response and humanitarian assistance, and the 2005 Quadrennial Defense Review.
As a fellow at the Centre for a New American Security from 2007 to 2009, Singh published widely on defense strategy, national security policy, and Asia.
Singh lived and worked in Sri Lanka while running a Ford Foundation program on minority rights and conflict in Bangladesh, India, Nepal, Pakistan, and Sri Lanka. He also reported on the Sri Lankan civil war for the Voice of America.
He holds degrees from the University of California, Berkeley, and ColumbiaUniversity.
In an interview with The Daily Beast, Singh said the CAP job provided a great opportunity for him to take a break from policy implantation to concentrate more on larger strategy and writing.
"It's been the greatest privilege to serve both at State and Defense. After five years, it was time to take a step back and take time to think and spend some time with family," he told the Beast.
Singh and his wife, former Holbrooke staffer Ashley Bommer, are expecting their first child in a few weeks.
Singh said, "The CAP does incredible solid work on a range of issues from a progressive foreign policy standpoint and I want to keep building on that."
"It is a really critical time for how we as a country think about national security, as we end more than a decade of large scale foreign military entanglement. It's a really good time to figure out where we go from here," he said in the interview with the Beast.
Singh's exit from the Pentagon leaves the South and Southeast bureau in the Pentagon almost rudderless following the departure of the Assistant Secretary of Defense for the region, Peter Lavoy, who also resigned late last year.
Lavoy's resignation was preceded by Deputy Secretary of Defense Ashton Carter, whose exit was also a major blow to both the policy formulations vis-à-vis the Pentagon's 'rebalancing' toward Asia, and was also the point man who led the administration's buregoning defense relationship with India.