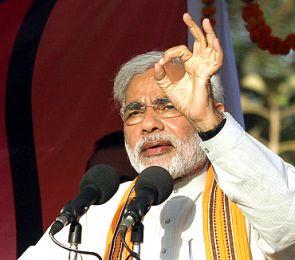 After a lot of dilly dallying, the Kanpur administration has finally granted permission to Bharatiya Janata Party to hold Narendra Modi's rally at BuddhaPark in Indiranagar on October 19.
BJP's decision to hold the rally at Buddha Park was taken after being denied permission for two other grounds -- Railway Ground and Phoolbagh Ground -- by authorities concerned.
"The district authorities created various obstacles to prevent the rally from taking place in the city, but we too were determined and hence, they finally granted us permission to organise the rally at Indirapuram in Kalyanpur locality here," BJP district president Surendra Maithani said.
Maithani, however, claimed that several conditions have been imposed for holding the October 19 rally.
"Our preference was the Railways Ground considering that nearly three lakh people are expected to turn up at the rally. The railways officials, however, denied us permission saying that railways property cannot be used for any political activity," he said.
Maithani said that the BJP unit had then approached the district administration for the historical Phoolbagh ground where many of the country's political bigwigs have had their rallies, but were again denied permission on the pretext of causing traffic woes in the city.
Party General Secretary in-charge of Uttar Pradesh, Amit Shah as well as a delegation of leaders from Gujarat would be visiting Kanpur soon to take stock of the preparations, Maithani said.