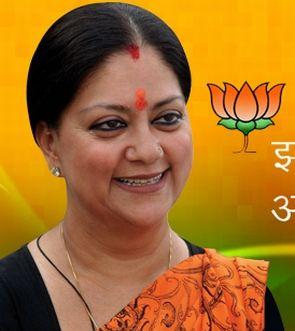 Rajasthan Chief Minister Vasundhara Raje on Wednesday announced a slew of sops, especially for the tribals, while replying to the governor's address in the state assembly.
Raje fulfilled her promise of setting up an armed battalion in the tribal areas in the state, along with introducing new rules for the Tribal Sub Plan (TSP) and increasing the number of seats in the state transport commission.
The chief minister announced that the Pratapgarh headquartered- armed battalion would be raised in the name of the great warrior Maharana Pratap where 1,000 youth would be inducted from the TSP region.
Raje also said that to ensure better representation of the tribals in the government services and for permanent solution to the problem of vacant posts in the TSP area, new service rules would be implemented for posts of subordinate and ministerial staff. As the rules come into force on Wednesday, no employee selected for the posts in TSP region would be transferred to any other vacancy in the state.
Meanwhile, the Bharatiya Janata Party government has also reduced the penalty for minor offences under Rajasthan Forest Act, 1953.
"In 2013, the previous government amended the Rajasthan Forest Act ,1953 to increase the penalty amount for minor offences like grazing cattle, cutting grass in forest areas from Rs 500 to Rs. 25,000. This led to difficulties in day to day affairs of the tribals. Looking to the problems of people residing in tribal regions, the government has decided to re-amend the act and reduce the penalty amount back to Rs. 500 for such offences," Raje said in the assembly on Wednesday.
Raje took another important measure and mentioned that an independent Rajasthan sub-ordinate and ministerial staff selection board would be constituted. She informed that notification to this effect would also be issued on Wednesday itself.
The state government's earlier decision of forming the board in 2008 was discarded by the previous government led by Congress' Ashok Gehlot.