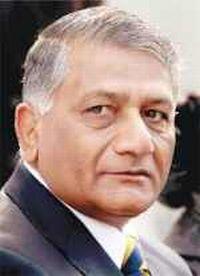 Former Army Chief Gen V K Singh has pleaded that Jammu and Kashmir assembly drop breach of privilege proceedings against him over his alleged remarks that army had paid bribes to politicians in the state, contending he has not spoken anything that was not available in the public domain.
Gen(retd) Singh also said various quotes attributed to him are "inaccurate and incorrect".
In his response to assembly Speaker Mubarak Gul on the breach of privilege notice, Gen Singh said, "In light of facts and circumstances, it is respectfully submitted that the allegations levelled against me by way of a breach of privilege motion by members of Legislative Assembly are not made out and appear to be a case of misinformation.
Therefore, the same may kindly be quashed by your goodself (Assembly Speaker) and no further proceedings in regards thereto may kindly be carried out in the interest of justice," he said in his letter.
"I have not spoken anything that was not available in the public domain by way of certain books already published or the wiki-leaks expose, prior to the said TV interviews that were telecast on news channels", he said.
Gen Singh further said that during the course of TV interviews referred to in the notice he has not spoken anything whatsoever that could even remotely affect or obstruct the functioning, decorum, dignity or position of the legislature or any of the members thereof as also anything whatsoever that shall impede the members in carrying out their legislative functions.
Gul had issued the notice on October 24 asking Singh to explain his position on payment of alleged bribes to some ministers from the army's secret funds during his tenure.
The J&K assembly on Friday made his reply public and sought comments from members, who had moved the privilege motion.
"In response to the allegations levelled against, I almost respectfully point out that various quotes ascribed to me are inaccurate and incorrect to the extent of being misquotes," he said.
Singh said his intent and motives are bonafide and none of his acts is ever directed at lowering the prestige or violating the privilege of J and K Legislature.
The former army chief said he had the utmost regard for all democratic institutions of the nation, all legislative assemblies and Houses of Parliament and also the members and functionaries thereof.