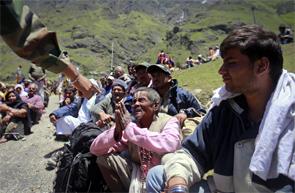 An old couple, who survived the massive Uttarakhand flash floods triggered by incessant rains, said it was as if a "second life had been granted" to them.
Girish Sharma, 60, and his wife Sushma Sharma, 59, reached Phugwara in Punjab after surviving nature's fury.
The couple were among 35 pilgrims who had left on June 8 from Phugwara. They paid obeisance at Yamnotri, Gangotri and Kedarnath. But the couple was later stuck at Gobindghat and Badrinath due to cloudburst and landslides.
"We had not thought we would be able to reunite with our family," they told reporters.
While recalling their horrific experiences from the Char Dham yatra, they said that they, along with other pilgrims, fought for survival. They had a providential escape when a bridge collapsed immediately after they had crossed it on Chamoli on the way to Rishikesh on June 17.
They reached Karan Paryag after huge travails.
"Death stalked and stared us in the face. We proceeded towards Ranital on June 18 and stayed there, shelling huge sums of money for a room. We started for Khokhran on June 19. After spending a night there, we began our journey for Phagwara via Dehradun, Paonta Sahib-Chandigarh. It took us 25 hours to cover over 400 km from there as the roads were broken," they said.
"All this while, our two daughters and a son underwent hell, worrying helplessly for us. They all have heaved a sigh of relief now," the couple said.
Girish, a retired Punjab government employee and Sushma, a retired teacher, also rued that greed made locals, especially dhaba and hotel owners, unscrupulously fleece beleaguered survivors.
"We were made to cough up Rs 7,000 for a room in a hotel for a night. A packet of bread cost us Rs 100, a water bottle was sold for Rs 70-100, a paltry meal cost Rs 200 per head. In Chamoli, we had to shell out Rs 7,000 for a rickety room to spend a night," informed Sharmas.
"We also found the Uttarakhand administration, especially police, highly unhelpful to pilgrims but we have only praise for the Indian Army," they said.
"Two army jawans -- Sukhwinder Singh and Daljit Singh -- came for us like angels and helped us beyond description," they remarked.
Struggling with tears in eyes, they claimed that a large number of bodies had been washed away in the flash floods.
They said the Uttarakhand administration should have forewarned the pilgrims as the downpour had been lashing the region three-four days before the cloudburst.
"Even after the calamity, the Uttarakhand police callously forced hapless pilgrims to shift from one place to the other to escape responsibility enjoined by area jurisdiction," alleged Girish.
The couple, along with others, trudged through dead bodies, saw gigantic buildings crumble like pack of cards and vehicles, especially hundreds of motorcycles and cars, getting washed away in Alaknanda, Mandakani and in the roaring waters of flash floods.
Image: A survivor pleads with a soldier to allow him to board an army helicopter during rescue operations at Badrinath | Photograph: Danish Siddique/Reuters