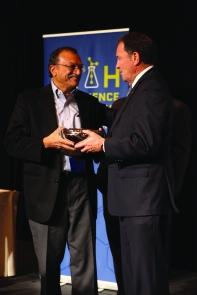 Dr Dinesh Patel, Utah's most high profile and influential Indian American, was conferred the Willem J Kolff Lifetime Achievement Award at BioUtah's 2013 Utah Life Science Award, the state's top science award ceremony.
Utah Governor Gary Herbert presented the award to Patel at the Utah Life Science Summit, presented annually by the industry's leading association BioUtah.
The selection panel -- including industry, education, and government leaders in Utah's life-science community -- was unanimous in selecting Patel, a pioneering Utah biotech entrepreneur, investor and community leader, for the award.
At the event, the first annual BioUtah Public Service Award was given to the state's senior United States Senator Orrin B Hatch.
These awards reflect some of the greatest qualities we can aspire to,' said Kimball Thomson, president and CEO, BioUtah. Patel and Senator Hatch, he said, 'are great examples of commitment to these values, and are worthy of emulation.'
Launched in 2012, BioUtah serves the state's medical device, biotech/pharma, diagnostics and health-care industries. Patel, partner emeritus with Signal Peak Ventures, has founded or co-founded multiple Utah life science companies.
He was the founder and CEO of TheraTech, now a major Utah division of Actavis. He has also invested in many Utah life science companies as co-founding managing director of vSpring Capital, and in more than 20 companies as an angel investor.
He has been active in community service, supports charities, and is currently chair of the governing authority for the Utah Science Technology & Research Initiative, and a member of BioUtah's executive board.
"It is a great honor for me to be recognized by my peers with the Kolff Award, named after one of the greatest life science innovators Utah or the world has ever known," Patel told India Abroad.
"It is humbling to be part of a distinguished group of previous Kolff Award winners including legendary Utah inventor and robotics engineer Stephen Jacobsen, University of Utah Nobel Laureate Mario R Capecchi, and the late medical informatics pioneer Homer R Warner," he said.
"In my life as an entrepreneur, investor, volunteer and board member in Utah's life-science community, it has been my privilege to work with some of the greatest people I could ever know," Patel added.
Senator Hatch has led the bipartisan effort to repeal the medical device excise tax and also been in the forefront of pushing for immigration reform to retain foreign graduates, including Indians, in STEM (science, technology, engineering and math).
He has argued that Green Cards should be stapled to their degrees, because otherwise they would go work for overseas companies that would be direct competitors to American firms.
Patel, who has been for decades with several community boards in Utah, various universities and charities, is the first Asian American to win this coveted award.
A few years ago he also became the first Asian and Indian American from Utah to win the Ellis Island Medal of Honor.He has worked on several commissions and boards appointed by three successive Utah Governors, Michael Leavitt, Jon Huntsman, and Herbert.
During Huntsman's tenure, Patel was the catalyst behind the first Diwali celebration by a US governor in the Governor's Mansion, which has now become a tradition with several governors across the country.
Considered by many to be the father of biotechnology and pharmaceuticals in the Mountain West region, he holds 15 US patents and foreign counterparts.
Kabwe, Zambia, born and raised, Patel's parents sent him to India for higher studies. He received his bachelor's degree in pharmacy from GujaratUniversity in Ahmedabad, and his master's degree from the Philadelphia College of Pharmacy, and his PhD from the University of Michigan.
Two years ago, thanks to his influence and leadership, a $130 million, sustainably designed interdisciplinary research facility, the JamesLSorensonMolecularBioTechnologyBuilding, came to fruition in Salt Lake City.
It is aimed at attracting some of the world's most internationally recognised faculty and fueling Utah's economic development activity.
The building was funded through a $100 million commitment from the state of Utah along with $15 million from the Sorenson Legacy Foundation and other private gifts, including a leadership donation from the Patels.
Patel and his wife Kalpana have contributed significantly to countless other projects at the University of Utah ranging from the health sciences and engineering to culture and the humanities.
Patel and his brothers also set up the ShreeChhotubhaiAPatelHospital & CommunityHealthCenter in Mota Fofalia, Gujarat.
Dinesh Patel, left, receives the award from Utah Governor Gary Herbert.