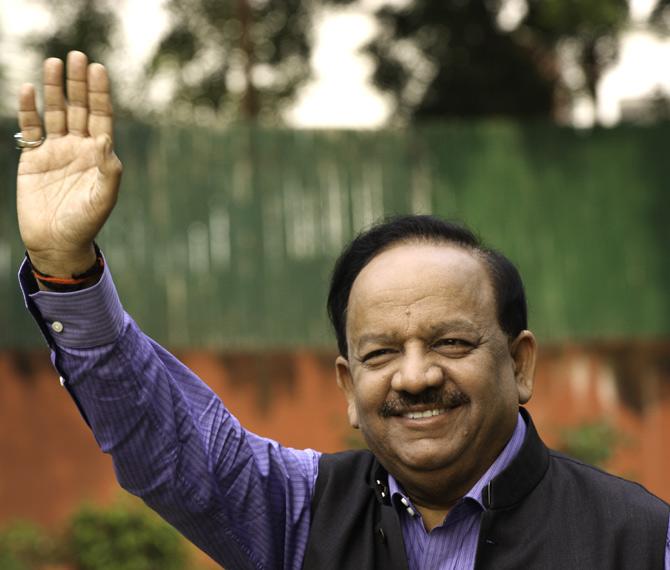 On the eve of Arvind Kejriwal's swearing-in as Delhi chief minister, the Bharatiya Janata Party on Saturday asked its newly elected members of Legislative Assembly to be prepared for "snap polls" in near future, stating that tenability of the Aam Admi Party government with Congress support looks extremely suspect.
"The whole idea of a party professing clean politics aligning with the most corrupt political party in history is ridiculous. It will collapse under its own contradictions,"
Leader of BJP Legislative Party Harsh Vardhan told media persons.
BJP spokesperson Nirmala Sitharaman said that the new dispensation has started on a "shaky wicket" in view of the dissenting statements from Congress over support to AAP.
"There are several statements from the Congress leadership-- one says support as per manifesto, other says it is unconditional support and third say no, no, it is simple support.... So the beginning (of AAP) itself seems to be on a shaky wicket. We will watch them in the days to come," she told reporters in Jammu.
Taking a dig at AAP, she said it is the same party which had called all other political parties 'chor' (thief). "Are they (AAP) happy going with them (Congress). I wish that they would not have called all the political parties 'chor'," she said.
Demanding that the AAP and the Congress come "clean" on the "deal" between them over government formation, Vardhan said Arvind Kejriwal led new government should start fulfilling its promise of starting inquiry into scams and corruption cases committed by the previous dispensation.
"People of Delhi also want to know the deal between the AAP and the Congress. The intention of the new government would soon become clear when it opens corruption cases against the Congress," Vardhan said.
He demanded that the new government order a high-level and time bound enquiry into the "bungling" committed during the Sheila Dikshit regime.
"There are over two dozens scams. There are Commonwealth Games scam, Yamuna cleaning scam, DTC bus purchase bungling, power and water scam among many others. The new government should ensure stern punishment to the guilty," Vardhan said.
He said BJP MLAs will play a role of constructive opposition and on the lines of shadow cabinet in foreign countries, each elected member of the party will look at the functioning of particular departments.
"The shadow minister concept is working well in many foreign democracies and ensures that the government fulfils its responsibilities properly," said Vardhan.
The BJP welcomes the new government and expects that it will fulfill the promises made to the public within a fixed time frame so that people suffering due to Congress misrule for the last 15 years may get relief, he said.
Vardhan demanded that the new government get full statehood for Delhi and said it will be BJP's highest priority to end multi-agency system. Vardhan, who convened a meeting of BJP MLAs at the Vidhan Sabha, asked them to continue their mass-contact programmes in the respective constituencies so that their "good works" reach people.
"We are the single largest party, but we did not make an attempt to form the government. We will expose the chicanery of AAP-Congress before the people thoroughly and soon come to power with an overwhelming mandate," Vardhan said.
To a query whether BJP leaders will be attending Kejriwal's oath taking ceremony tomorrow, Vardhan said the party has not received any invitation so far. "When it will come, we will decide," he added.
On the BJP's role during the floor test of the new government in the Legislative Assembly, Vardhan said BJP is nowhere in the picture.
"It is the prerogative of the AAP to prove majority. The AAP has 28 seats, the Congress has eight seats. They will decide. We are not there in legislative assembly to abstain from our duties. We will play our role with all sincerity," he said.
Vardhan said too much importance is being given to Kejriwal taking Metro to go to Ramlila Maidan for oath-taking ceremony and he has been doing the same to visit his children in Dwarka for a long time now.
On party leader Jagdish Mukhi's remark that a deal was done between the Congress and the AAP at a particular place, Vardhan said the party has nothing additional to say and has already made a statement.
Vardhan said nothing much should be read in government departments tearing papers in their offices. "It is a routine thing to get rid of papers before a new government resumes office. Please don't read too much into it. If they (Congress) had to tear or hide papers related to those files (scams and corruption related), this would have been done by now. They will not wait till now," he said.