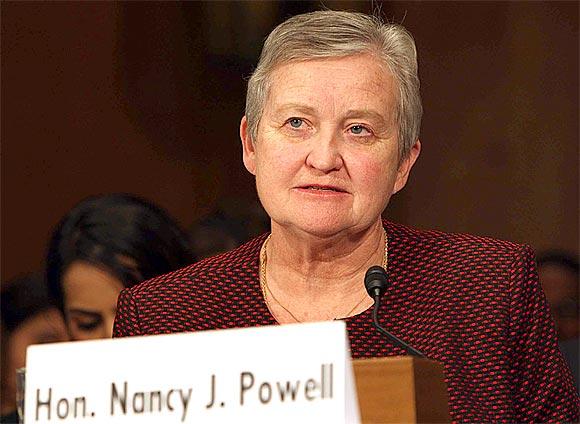 India's tough measures against United States diplomats following the arrest of a senior Indian diplomat in New York has impacted US Ambassador Nancy Powell who called off her travel to Nepal after her special privileges were withdrawn.
Powell, who had informed the government here about her travel plans to Nepal, cancelled her visit after airport pass which gave her special access to various procedural checks at the airport stood withdrawn as India downgraded privileges and benefits to US diplomats in sharp retaliation to the arrest of its Deputy Consul General Devyani Khobragade.
Only the ambassador's airport pass came with a photo ID which was exclusively for her while all other passes known as "floating" airport cards were used by the US diplomats as "if and when required" basis, government sources said.
They said the US Ambassador had informed the external affairs ministry about her travel plans and when she checked about her privilege of special access, she was informed that it stood withdrawn since December 19, the deadline for surrendering the special passes by the US.
With special access withdrawn, there was every possibility that the US ambassador would have been frisked and put through other security measures like normal passengers.
Asserting that India withdrew this facility totally on "reciprocal" basis, the sources said when Indian Ambassador to the US travels in and out of that country, they don't get any
special privilege and cited the example of Meera Shankar, former ambassador who was pulled from an airport security line and frisked by a security agent in Mississippi in 2010.
Meanwhile, the US embassy seems to be dragging its feet on submitting details sought by India including salaries paid to all Indian staff employed at the US consulates, including by consulate officers and families, such as domestic helps.
They have also not filed the details of salaries paid to Indian staff and others in their schools in Delhi and Chennai though the last date for submitting the same was December 23, the sources said, adding the US embassy has made a request that since many of its staff are on holiday in view of Christmas and New Year, they be given more time to submit these details.
The government had sought details from the US embassy after the 1999-batch IFS officer, Khobragade, was arrested on December 12 on charges of making false declarations in a visa application for her maid Sangeeta Richard.
The diplomat was released on a $250,000 bond after being charged with visa fraud.
Subsequent revelations that she was strip searched and held with criminals triggered a row between the two sides with India taking various firm "reciprocal" steps.