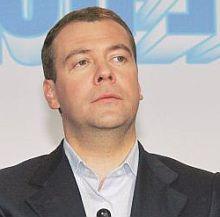 Describing the second world war as the 'greatest tragedy' of the 20th century, Russian President Dmitry Medvedev on Sunday slammed attempts to equate United Soviet Socialist Republic and Nazi Germany as its initiators.
Medvedev critised the recent resolution of Organisation of Security and Cooperation Europe's Parliamentary Assembly equating Nazi Germany and the Soviet Union, in an interview to the state-run TV's weekly 'Vesti Nedeli" analytical programme.
"The OSCE Parliamentary Assembly just recently grouped together Germany and the Soviet Union, pronouncing them to be equally responsible for World War Two. Now this, quite frankly, is a flat-out lie," Medvedev declared.
In his interview ahead of the 70th anniversary of the beginning of Second World War on September 1, 1939, Medvedev said, "These events were the greatest tragedy of the 20th century. It was a tragedy that took the lives of about 70 million people, according to various estimates, as this figure has never been fully determined. Thus, there can be no other view of those events."
In an obvious reference to the Soviet Union's role in crushing the Nazi Germany on the Eastern Front, he insisted that the issue was who started the war, which country killed people and which country saved people, millions of people, and which country ultimately saved Europe.
Medvedev also blasted three Baltic states -- Estonia, Latvia and Lithuania and neighbouring Ukraine, till 1991 part of the Soviet Union, for 'pronouncing' war criminals as their national heroes.
"We are seeing some astounding trends. Governments in the Baltic states and even Ukraine are now essentially pronouncing former Nazi accomplices to be their national heroes who fought for the liberation of their nations," he said and added that in order to favour 'some states that are currently developing and are in the process of forming their national identity' the realities cannot be ignored.
He reminded that even at the time of Cold war and East-West rivalry there was no difference over Nazism. "In spite of ideological differences everyone agreed that Nazism had been rightfully condemned by history and that Nazi criminals who were judged in the Nuremberg trials were serving out a just punishment," the Russian leader said.
Image: Russian President Dmitry Medvedev